Mauricio Diez Canseco arrived in Lima, on the night of last Monday, June 12, on a flight from Colombia, where she went to bring to our country the new generation of Chicas Doradas: Laura Cardona, Mariana Muñoz Rua, María Paula Muñoz, Mariangel Molano, Savannah Ray Steve and Maria Fernandez Ramirez. The businessman spoke of his feelings after his separation with Lisandra Lizama.
The businessman Mauricio Diez Canseco, who demonstrated that on his recent trip he learned some Colombian phrases such as "Pa' las que sea" and "What was there then, baby", indicated that the six Colombian models were chosen from among 100 girls who did casting for be the Golden Girls of Rustica.
"I want to officially present the Golden Girls of Colombia. They dance, sing… they are going to see a really complete show. This brand (Golden Girls) is 10 years old and (we have brought models from) more than 10 countries: Russia, Italy, Brazil… It is not easy to handle models as special as them. They all have a ranking. They are fashion icons. They are very professional models. Now, this week, they are going to prepare, so Colombia came with everything", said the popular 'Palomo'.
YOU CAN SEE: What happened to Dailyn Curbelo and how is her relationship with her ex-boyfriend Mauricio Diez Canseco?
After posing with the new generation of Chicas Doradas de Colombia outside the Jorge Chávez International Airport, the Peruvian businessman broke his silence and talked about how he is sentimentally and what is coming for Rústica. Also, he referred to Lisandra Lizama, his ex-wife, and 10 years of the Chicas Doradas brand.
How are the Golden Girls of Rustica chosen?
—How was the casting in Colombia for the new Golden Girls?
—We send a presentation to the agencies. They prepare the casting for us. Let's go one, two or three (to see them). Then, a contract comes, we talk with them, with the families, who ask questions through the WhatsApp group. You know they are young girls.
The new generation of Colombian Golden Girls. Photo: Sandy Carrión Cruz / The Republic
—What characteristics do models have to have to be part of the Golden Girls?
"They have to have aptitude. There are very pretty girls, but at the right time they don't have that spark.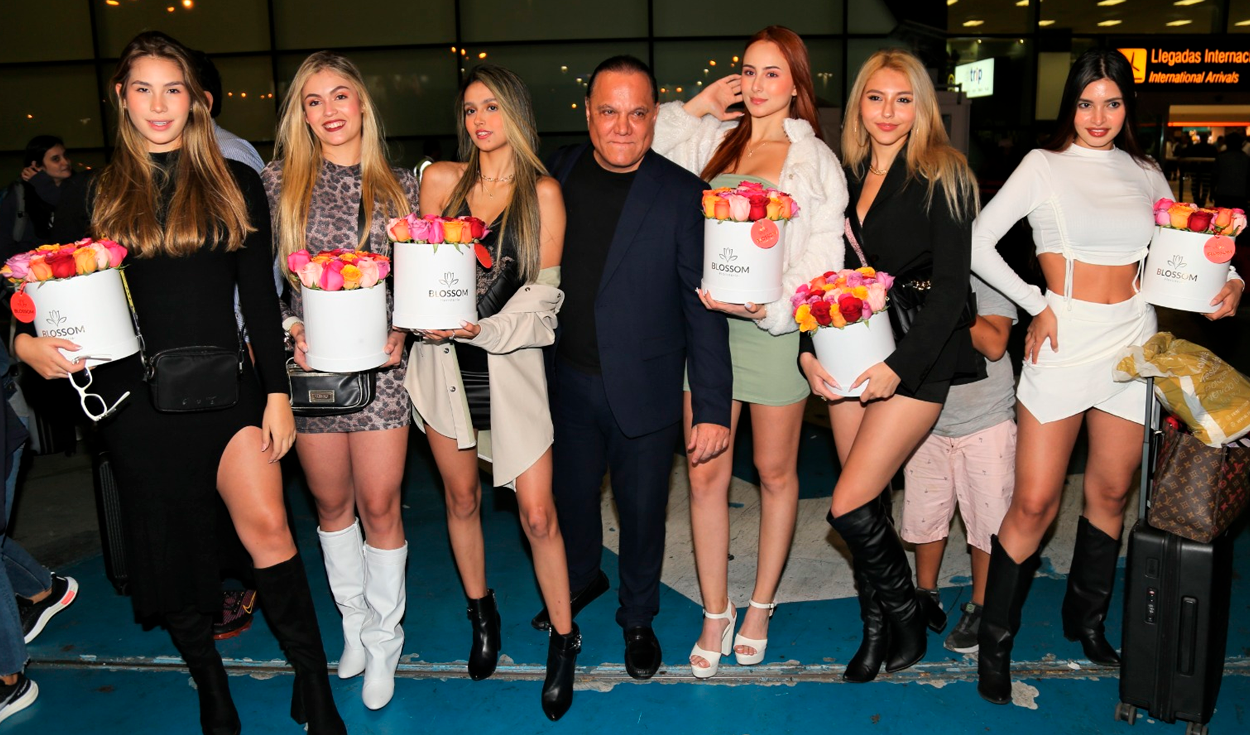 Mauricio Diez Canseco assures that the new Golden Girls know how to sing and dance. Photo: Sandy Carrión Cruz
YOU CAN SEE: Who are the new Golden Boys and what were they doing before coming to Peru?
—It's 10 years of Chicas Doradas de Rústica…
"Golden Boys, too." I want to reveal something. The Golden Boys have been more successful than the Golden Girls. Now new Golden Boys are coming from Argentina. Also from Colombia, Mexico and Peru.
—Tomi Narbondo is now in "Esto es guerra" thanks to the success he has had with Rústica.
-Excellent! It has happened before with Facundo González, who was hired (in that program).
—There are others who have made a career thanks to the good eye you have had.
—They have taken advantage of the opportunity, such as Belén Estevez, Sheyla Rojas, Angie Jibaja and Andrea San Martín.
—Do you consider yourself a great discoverer?
-No no no. Discoverer no, but I put my grain. With me it's restaurants and hotels.
—For the 10 years of Golden Girls, will there be something special?
—Yes, we are preparing something nice, because it coincides with the 30th anniversary of Rústica.
YOU CAN SEE: Daysi Ontaneda gives his support to Mauricio Diez Canseco: "I see him as an older brother"
—When will it be done?
—It's coming, it's in July.
—Would you summon the most iconic of the Golden Girls?
-Clear. Andrea San Martín, Vanessa Jerí and others could be there.
Mauricio Diez Canseco assures that there will be no new ampay
—Are you okay on the emotional side?
-Super good. Everything has its stage. I wish him all the best (to Lisandra Lizama). May everyone be happy and have work.
—Now that you come from Colombia, how is your heart?
—Now my heart is in mourning. I keep my mourning.
—Are you not one of those who change partners quickly?
-No. I am a man who gets married and commits myself.
YOU CAN SEE: How many times was Mauricio Diez Canseco married and why did their marriages end?
—So, aren't we going to see you with one of Colombia's Golden Girls?
—No, no, no… because they all have boyfriends.
—Aren't they going to support you with one of them?
— Support? No no no. I am super calm.
The new businesses of Mauricio Diez Canseco
—What new projects are coming up for Mauricio Diez Canseco y Rústica?
—We are opening restaurants, hotels. We will open soon in Cusco. Rústica Varadero and Rústica La Habana are coming. I've been pursuing that for 10 months.
—What was the most difficult thing about doing business in Cuba?
—Making a contract with the Cuban government is not easy. They check me a lot, they filter. Reputation is not easy. Big company, big problems. We are 30 years old, 3,000 workers, 60 restaurants and 8 hotels.
—With so much work, how do you recharge energy and not fall into stress?
"Well, God give me health." Gunpowder breakfast in the morning (laughs).
YOU CAN SEE: Mauricio Diez Canseco after breaking up with Lisandra Lizama: "I wish him the best in his career"
Why did Lisandra Lezama separate from Mauricio Diez Canseco?
After several months of silence, the singer Lisandra Lezama told details of the reason that caused the separation between her and the businessman Mauricio Diez Canseco. She gave her statements to a local media outlet and caused a stir because of what she said about the popular 'Pizzer'. Likewise, she ruled out that she has been related to the owner of rustic for economic interests.
In this sense, she stated: "We spent a moment (…) that was super ugly, in which my family was involved, but, at that moment, I did not report it, nor is it worth it now that I tell that because I feel ashamed although I shouldn't. I feel bad for ugly things we went through, psychological aggression I did go through, I can't talk to you about the other type of aggression."
What did Mauricio Diez Canseco say about their separation?
Mauricio Diez Canseco is an infatuated businessman who has become well known for having restaurants rustic in most districts of Lima and also in the interior of our country. Likewise, he has become popular for the sentimental relationships that he has had at 59 years of age. His last romance was with the Cuban singer Lisandra Lezama, but the marriage did not last even 5 months.
When they announced the end of their union, both characters decided to keep the media silent, but as the weeks went by, each one came out to give their version of events. It should be noted that the most silent was the ex-husband of Daysi Ontaneda. However, when the cameras of "Magaly TV, the firm" asked her about what happened, she said: "I will continue to mourn (…) for the immense love I have for him, I wish him well and the best in his solo career. I will always keep in my memories the beautiful moments I spent with her."