The Mega Technology Corridor, covering Istanbul, Izmir and Baku, was opened from Izmir. Minister of Industry and Technology Mustafa Varank, Minister of Youth and Sports Mehmet Kasapoğlu, Izmir Governor Yavuz Selim Köşger, AK Party Deputy Chairman Hamza Dağ, AK Party Youth Branch President Eyyüp Kadir İnan and deputies attended the opening of the corridor located in Urla Informatics Valley.
KASAPOĞLU: "WE ARE IN THE AIR, ON THE LAND, IN THE SEA"
In his speech at the opening, Minister of Youth and Sports, İzmir Deputy Mehmet Kasapoğlu said, "Turkey is now a country that walks towards its dreams. We are there where we need to be. We are there with the rich-hearted children of this country who never hesitate to take responsibility. Some people cannot even imagine what we have done at this point. We achieve what they cannot imagine, what they try to cover up by throwing mud. It is for all of us to taste this share. Turkey has a magnificent leadership vision in its 21-year transformation and its future horizon, and that leader is our President. With his upright stance and leading leadership spirit, the children of this country will continue to open the ages with the local and national spirit, just as they do today. " said.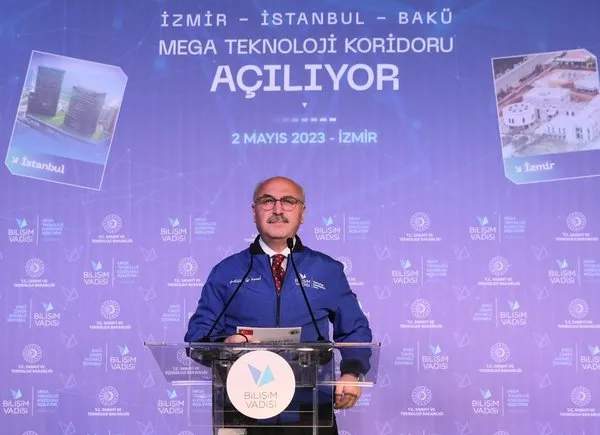 "WE WILL CONTINUE TO BE TOGETHER WITH OUR YOUTH"
Stating that Turkey has made a great transformation in 21 years, Minister Kasapoğlu said, "It is a magnificent process with its industry, trade, infrastructure, health, education, tourism, sports and youth investments. Especially the last 5 years. The Presidential Government system, this corridor, has waited for years to come true, This opening is an example of how effective this process is and how result-oriented it is. Some people are trying to bring Turkey back to the old outdated understanding, but we believe that our nation will never give the opportunity to come back from these important achievements with the wisdom, what they have experienced and what they have seen. Young people who have self-confidence, exist with a dynamic understanding, young people who reveal their hearts… When the children of this country are given the opportunity, they succeed when they are with them sincerely, we have always stood by them. From now on, we will continue to be together with our youth with the same spirit and belief." used his statements.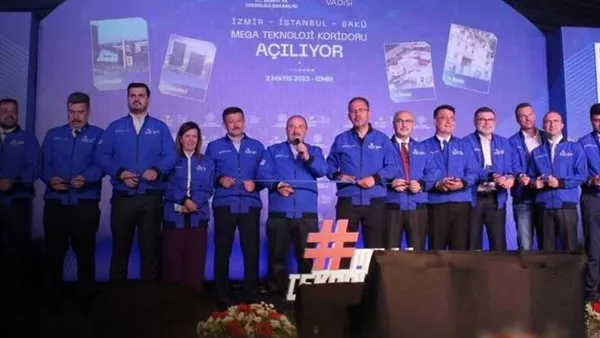 "10 DORMITORIES ARE NOT THE CAPACITY OF 1 DORMITORY"
Kasapoglu said: "Today, many investments in the field of Izmir Institute of Technology are investments of youth-oriented politics. Dormitories are the pride of Turkey, one of our investments. In İzmir, we placed all our young people who applied in the dormitories during this academic year. Those who try to exploit the dormitories should give an account of how many dormitories they have built in local governments. The 10 dormitories they built do not have as much capacity as our 1 dormitory. They are just busy exploiting and perceiving this issue.
VARANK: "WE HAVE TAKE STRONG STEPS IN TECHNOLOGY"
Industry and Technology Minister Mustafa Varank said, "The technological investments we have put into use during the past month have once again demonstrated the importance of technology. Turkey is committed to the technologies of the future, from increasing its presence in space, investments in vaccine and drug technologies, to lowering the first electric mainline locomotive to rails, to serving electric vehicles. Turkey's first domestic and national satellite IMECE, which we started working on 6 years ago, started its mission in space. The first images started to come from our satellite, which revolves around the world 14 times a day. Our President also announced the first space travelers of Turkey, who will represent our flag on the international space station. " said.
"1 BILLION SUPPORT WILL BE GIVEN"
Minister Varank continued his statement as follows:With the completion of this facility, circuits such as semiconductors and ID card chips will be produced here. There is also a new support program for chip design, we will start to give support to young entrepreneurs close to 1 billion. This will be an important step for us to make a leap in chip design and production in our country.
"WHERE KILIÇDAROĞLU ASKED: HERE IS"
500 mainline locomotives had to be bought to Turkey; We will contribute to the reduction of the current account deficit by producing mainline locomotives in Turkey. The cost of 500 of them is 2 billion dollars, we will prevent it from going abroad. We supported the establishment of 1572 charging stations in 81 provinces. We laid the foundation of the production campus for the batteries of TOGG smart devices. With TOGG, we showed the technology and engineering capabilities of Turkey to the whole world, but we could not convince the longstanding opponents. Kılıçdaroğlu, 'When you came together, signed signatures, held big ceremonies, where is Turkey's car, he asked? Asked. Here it is, in Urla!
"WE WILL START TOGG'S EXPORT IN 2025"
We got on TOGG with our friends, one of our young friends was wearing a Mercedes jacket, he said, 'Mr. Minister, I will burn this jacket as soon as I land'. Kılıçdaroğlu asked as if domestic cars were produced in this country every day, 'To whom will you sell cars?' On the contrary, our dear Turkish Nation, who believes in his country and trusts Turkish engineers, is buying this vehicle. Pre-orders have been taken, deliveries are now in progress. Starting from 2025, we will start exporting these vehicles to the whole world.
"THE BALANCE IS BALANCED AS WE EXPLAIN"
As we explain, someone's balance is confused. No. If there is no scribbling, what good are those who call Teknofest a 'fair fair' for Turkey? What action were they able to demonstrate? You should be a little ashamed. Those who call our SİHAs, whose technology has proven to the whole world, 'toys', those who say 'if you throw two bombs, it will go down' for TCG Anadolu… We do not seek your appreciation, but for once, do not speak up, but we do not see such an opposition before us. It's always a smear campaign. Don't call what we call white black… This is not an understanding of opposition, it is not possible to take Turkey forward with these.
GOOD NEWS TO YOUTH: NO FEES UNTIL THE END OF THE YEAR
Informatics Valley Izmir; With a closed area of ​​63 square meters, it will provide employment to more than 6 thousand people. Informatics Valley Izmir was our election valley in 2018, we have fulfilled our promise. We know how important Izmir is in technology-based initiatives. Every time we come here, we come together with our entrepreneur friends. This work was a work that would add value to Izmir. Be sure, we have worked on this job, stitch by stitch. We brought an exemplary structure to İzmir with its architecture, companies to participate and services. Some of them go to America, to a hamburger shop to see technology, or those who want to see technology will come to Izmir. We should have given a good news to İzmir, we worked with our Minister Mehmet Kasapoğlu and we know how much he will take care of this infrastructure. Until the end of the year, we will not charge any fees from the incubators that will apply here. Let our young people come and bring their ideas, once they are accepted, we will not charge them until the end of the year.
"OUR YOUTH WILL BUILD HYDROGEN-POWERED CAR"
We will continue to invest in this service caravan. We are making great efforts for our country and our youth, we are making these investments, but our young people will realize much better ones, we made electric cars, they will make hydrogen-powered cars, they will make history in space studies. We are proud of the work done by our youth. We are proud of how many opportunities we give them.
GOVERNOR KÖŞGER: "IT WILL CONTRIBUTE TO EMPLOYMENT AND ECONOMY"
İzmir Governor Yavuz Selim Köşger said, "I believe that this project will pave the way for other projects as well. I would like to express my gratitude to those who contributed. All components of İzmir are working to reveal the potential of the city, we are taking all steps to pave the way for them. I hope the potential will be revealed in our informatics valley, "Our 6 thousand citizens will undertake beneficial works both for Izmir and our country. The effective and widespread use of technology in the industry in our Izmir will add strength to many sectors, and will also contribute to employment and the economy," he said.
DAĞ: "THE METROPOLITAN MUNICIPALITY WAS THE PROMISE, WE DID IT"
İzmir Informatics Valley, Mega Technology Corridor was opened from İzmir. Speaking at the opening of the Informatics Valley, implemented by the Ministry of Industry and Technology, AK Party Deputy Chairman and İzmir Deputy Hamza Dağ said, "This project is not just our promise. All of the promises of other political parties, namely the Metropolitan Municipality candidacy, had a promise to establish a technology base here. Industry and After our Minister of Technology was appointed, we came up with a formula, he said, let's make this place an informatics valley rather than university stakeholders. When the informatics valley came here, it was said, 'Will it come out of İzmir?
"PROMISES IS EASY, THE IMPORTANT IS TO MAKE IT TO LIFE"
Explaining that the AK Party has realized the projects it promised, Dağ from the AK Party said, "It is easy to make a promise, the important thing is to implement it. Some people can only make promises, but we have implemented them concretely today. After May 14, new works will be delivered to our country together. I hope that the technology city of Informatics Valley Izmir will bring good luck to our city and our country," he said.