Former Vice President Venkaiah Naidu(Ex Vice President Venkaiah Naidu) made sensational comments. Than in America Minorities in India(Indian Minorities) are safe and happy.
Secularism Venkaiah Naidu said that it is in the blood of Indians. Monday in the Greater Washington DC area National Council of Asian Indian AssociationsHe addressed the Indian Americans at a reception organized under the auspices of the National Council of Asian Indian Associations.
Even some sections of the Western media to India Venkaiah Naidu expressed anger that they are campaigning against.
In India Security of Minorities Venkaiah Naidu was fired for spreading bad news about him.
Minorities of India He made it clear that he respects.Pakistan Those who wanted to go have left this country.
Those who wanted to stay here (India) are gone Venkaiah Naidu He recalled the events of the partition of the country. At the same time In India's internal affairs He warned Pakistan not to interfere.
Venkaiah clarified that Jammu and Kashmir is an integral part of India.National Council of Asian Indian Associations Venkaiah Naidu was felicitated by Six of America at the reception.
While. In the last few days Venkaiah Naidu It is known that he is touring America. This weekend was held in Philadelphia American Association of Physicians of Indian Origin (AAPI) He participated in the 41st Annual Conference and spoke on the importance of changes in healthy lifestyle Venkaiah Naidu Mentioned.
Also motherland He suggested to take care. He mentioned that AAPI programs are focused on mental health and physical health.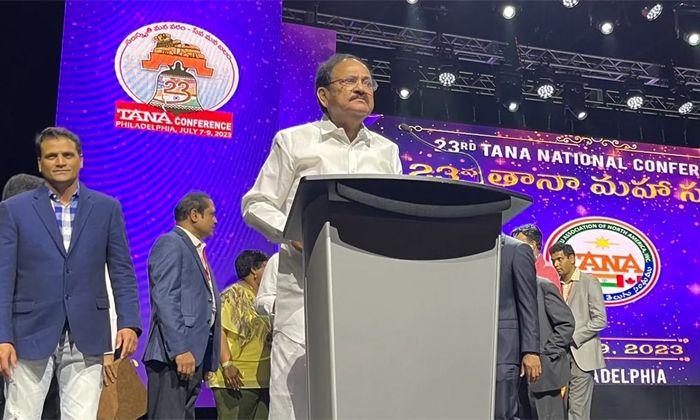 Also the 23rd held at the Pennsylvania Convention Center Even in Tana Sabhas( TANA ) participated Venkaiah Naidu He mentioned the greatness of Telugu language as a world language To Telugu The former Vice President asked organizations like TANA to work hard to bring respect
.