2014 Indian Democracy Was about to fall. It was Prime Minister Modi who rescued it from the fall. The Indian people trusted Modi and brought in the BJP regime. Home Minister Amit Shah has said that Modi is currently providing good governance.
Since Narendra Modi became the Prime Minister in 2014, his birthday, September 17, has been celebrated by the BJP as Service Day.
In this context, the BJP celebrated the Prime Minister's birthday on the 17th as a day of service and submission. In addition, the BJP launched various welfare schemes across the country for the first 20 days from the 17th to mark the 20th anniversary of Prime Minister Narendra Modi's return to public life.
In its extension, Amit Shah has spoken in praise of Prime Minister Modi for 20 years of public service. Amit Shah was speaking at a seminar in Delhi on the topic of Narendra Modi (National Conference of 'Delivering Democracy: Two decades of Narendra Modi as head of government') for 20 years under the leadership of the government.
Amit Shah's speech:
In 2014, the people of the country gave a majority to the BJP. At that time the democratic structure in the country was in a position to collapse at any time. Policy stalemate prevailed in the country. India's prestige in the international arena was declining. India was a corrupt country. 12 lakh crore corruption had taken place. The day was corrupt. Only then did the people give a majority to the BJP.
They were skeptical of a multi-party system of government. People were skeptical of the words Ram Rajya or Kalyan Rajya (People's Welfare Government) coined by Mahatma Gandhi. They decided that a multi-party government could not afford it. They patiently made a good decision. The BJP came to power. For the first time a non-Congress party ruled with a majority. The people empowered a non-Congress party to rule with full independence.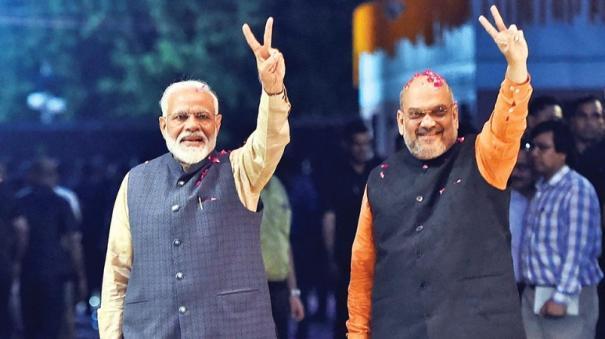 Modi was elected Chief Minister of Gujarat in 2001. Since then he has excelled in public service for 20 years. He holds no degree in management. Yet under his administration Gujarat improved.
He later became Prime Minister. He is now concerned with the welfare of the nation. He approaches the national interest on humanitarian grounds and defends the national interest from a security point of view. The needy act on the one hand and the precision attack on the other when needed.
Thus speaks Amit Shah.
Retaliation for trolls:
Amit Shah has also spoken about those who troll him on social websites. "I have been trolled. No nation can progress with ignorance. It is the duty of the government to impart knowledge to them. Those who are ignorant of constitutional rights can certainly do no good to the state."
.