The Russian Ministry of Defense confirmed on Saturday-Sunday night that the Russians have taken full control of the Ukrainian city of Bakhmut, where violent battles have been taking place for months.
The Russian Ministry of Defense said in a statement: "As a result of the offensive actions of the forces of the Wagner Group and the support of artillery and aviation from the Southern Forces Group of the Russian Army, the liberation of the city of Bakhmut has been completed."
For its part, the Kremlin announced that Russian President Vladimir Putin "congratulated the Wagner offensive units as well as all the soldiers of the Russian Armed Forces units who provided them with the necessary support to complete the operation to liberate Artemovsk," the Soviet name for Bakhmut. He added that "everyone who distinguished themselves in the Battle of Bakhmut" would be honored.
Earlier on Saturday, the head of the Russian private military Wagner Group, Yevgeny Bergogin, had confirmed that his forces had taken control of the city of Bakhmut after the longest battle in the ongoing war in Ukraine, but Ukrainian defense officials denied this.
Destruction in Bakhmut due to fighting
In a video clip posted on the Telegram app, Prigozhin said the city came under full Russian control around midday on Saturday.
About half a dozen fighters spoke alongside him, with destroyed buildings in the background and explosions heard in the distance.
But after the video clip appeared, the Ukrainian Deputy Defense Minister, Hana Malyar, said that fierce fighting was going on in the city.
She added, "The situation is critical.. Until now, our defenders control some of the industrial facilities and infrastructure in this region."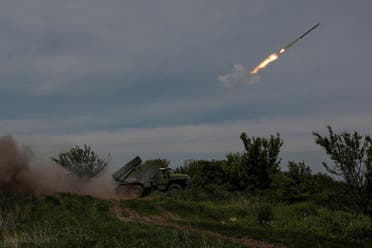 The Ukrainian army on the battle fronts in the vicinity of Bakhmut on Friday
In turn, the Ukrainian General Staff said in a statement on Facebook on Saturday that "the fierce battles over the city of Bakhmut do not stop."
"This is not the first time that Prigozhin has said that they have taken over everything and controlled everything," said Mykhailo Podolak, chief of staff to Ukrainian President Volodymyr Zelensky.
Fighting has been raging around Bakhmut for more than 200 days. If Russian forces control Bakhmut, they will still face the monumental task of capturing the remaining part of the Donetsk region that remains under Ukrainian control, including many heavily fortified areas.
It is not clear who paid a heavy price in the Battle of Bakhmut, as both Russia and Ukraine suffered casualties believed to be in the thousands, although neither of them disclosed the number of casualties.