Today, Friday, the Russian Foreign Ministry confirmed that Moscow is not obligated to cooperate with the International Criminal Court in connection with the investigation into Ukraine.
The ministry did not give any additional details, according to Sputnik news agency.
This came after the Dutch Foreign Minister announced that his country would send a specialized team to collect evidence from Ukraine, while his British counterpart said that her country would send a team to help Ukraine gather evidence related to what it said were "Russian war crimes."
British evidence-gathering team
The United Kingdom will also soon send a team of experts to assist Ukrainian and international investigators in their investigations into the atrocities committed in Ukraine since the beginning of the war there, the British Foreign Secretary announced Friday during a visit to the Netherlands.
British Foreign Secretary Liz Trace arrived Thursday evening in the Netherlands, where she met her Dutch counterpart, Bucky Hoekstra, before visiting Friday the headquarters of the International Criminal Court, which was established in 2002 to consider the worst crimes committed in the world.
"We will send a British evidence-gathering team to work with the Ukrainian authorities working with the ICC," Truss said during a meeting with senior officials of the International Criminal Court.
Forensic evidence
Investigators will visit Ukraine in May to collect "a wide range of evidence, witness statements, forensic evidence and photographic evidence," she told British media.
"We're also using British intelligence to help show the link between what's happening at the front and the Russian authorities, because it's important that everyone in the chain of command is held accountable," she added.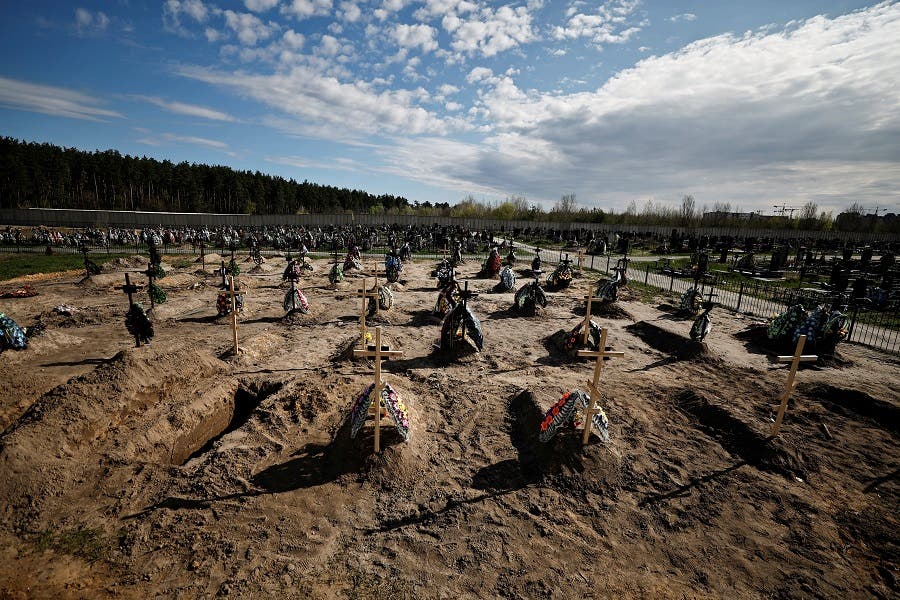 Mass graves in Bucha, Ukraine – Reuters
crime scene
On March 3, the Prosecutor of the International Criminal Court, Karim Khan, opened an investigation into the situation in Ukraine, after receiving the green light from some 40 member states of the International Criminal Court.
Earlier in April, Khan visited Bucha, where Ukrainian authorities said they had found the bodies of hundreds of civilians after Russian forces withdrew from the town adjacent to Kiev.
At the time, the prosecutor said Ukraine was a "crime scene".