Published: 26 Dec 2021 08:02 am
Updated: 26 Dec 2021 08:02 am
Published: 26 Dec 2021 08:02 AM
Last Updated: 26 Dec 2021 08:02 AM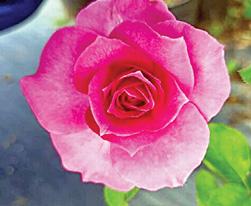 New Delhi: MS Veeragavan from Kodaikanal, India's leading horticulturist, new variety Rose Has grown one. For this, he has named the agricultural scientist MS Swaminathan in his honor.
This type of rose has a magenta purple color. And highly immune. The plant can grow up to 4 to 5 feet in height with dark green leaves.
Professor Swaminathan was a pioneer in bringing new approaches in the cultivation of food crops. This increased food production and made India self-sufficient. He is also known as the father of the Indian Green Revolution. In this case, KSG Son has created another type of rose in a nursery in Bangalore. This bright pink rose is named as 'Mango Rose'.
These two roses were planted by Narendra Dadlani, a florist from Delhi and former director of the Central Government's Department of Horticulture, in Chennai. MS Swaminathan Met him at home and delivered.
.