After the decision of American billionaire Elon Musk to remove the blue checkmarks from Twitter users who do not pay two days ago, sparking confusion and chaos, it seems that the fiftieth man has returned and retreated.
However, he made matters worse by returning this documentation mark to the accounts of famous people who died long ago, which sparked a new wave of criticism in his face.
The platform has added a blue tick to the accounts of deceased people, including New York chef and broadcaster Anthony Bourdain, who died in 2018.
and Brazilian footballer Pele, who passed away last year, with notes on their profile claiming that the deceased stars "subscribed to Twitter Blue" and verified their phone numbers.
Others, including Michael Jackson and Chadwick Boseman, also received blue ticks, noting that they had subscribed to Twitter Blue, according to the British Telegraph.
The confusion came after Musk backtracked on his plans to remove Twitter blue ticks from non-subscribers' accounts, with celebrities claiming their profiles had been reinstated despite refusing to pay.
Famous users including actor Sir Ian McKellen and former presenter Richard Osman were among those who said they had not signed up despite the blue tick reappearing on their accounts.
Twitter's owner removed the verification status from any account that refused to sign up for a monthly subscription to the social network on Thursday.
The move reportedly left figures including the Pope and the Prince and Princess of Wales without a blue tick, sparking fears of impersonation and scams that could flood Twitter.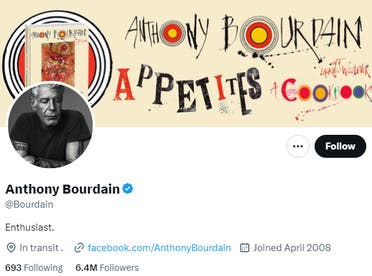 Account of the late Anthony Bourdain
Under Twitter's new policy, subscribers will get more visibility into their tweets, see fewer ads, and be able to send longer posts.
On Friday, Musk admitted that he personally paid to verify several celebrity user accounts, including basketball star LeBron James and author Stephen King, after they refused to sign up.