It doesn't seem to be a coincidence that Elon Musk became the number one Twitter account to follow, just months after he acquired the platform.
Early last Monday, Musk surpassed former US President Barack Obama as the most followed Twitter user, with 133.08 million followers compared to 133.04 million followers of Obama, so how did he do that?
The ominous tweet
This comes in the wake of the Twitter CEO's request of the platform's engineers to create a special system that enhances his tweets after the tweet incident related to the annual championship game of the National Football League on February 12, known as the "Super Bowl".
According to informed sources, Musk ordered the system to be rearranged when his tweet did not receive the desired response, such as a similar tweet published by President Joe Biden at the same time, according to a report by the British Daily Mail.
Later, the American billionaire deleted his "failed" tweet and threatened to fire his engineering team if the interaction problem was not fixed.
According to a report by Platformer, the incident caused Musk to become increasingly frustrated about the lack of engagement with his tweets.
New algorithm solution!
Against this backdrop, he ordered employees to revamp Twitter's algorithm, an issue it described internally as "very pressing," so that it shows Musk's tweets to users first.
Hours later, Twitter users began sharing screenshots of the "For You" tab showing nothing but tweets and replies from the CEO.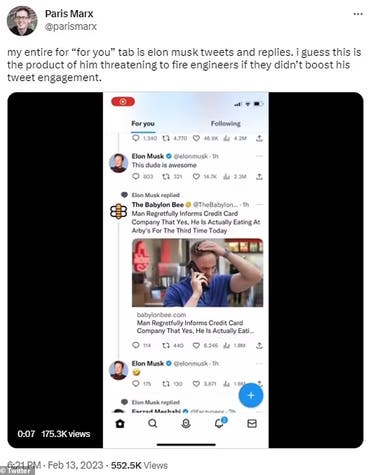 for you
The For You tab displays popular Tweets that are reinforced by an algorithm, whether or not the person follows the account that posted them.
So it seems that giving Musk's tweets more prominence had the effect of encouraging people to click on his account and hit the "follow" button.
High number of followers
In addition, the number of Musk's followers has increased since the time of writing this report, to 133,089,608 followers on Twitter, compared to 133,042,468 followers for Obama.
That means Obama's follower count has dropped in a matter of hours, while Musk is still growing, according to statistics previously reported by The Verge.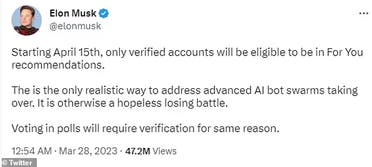 It is noteworthy that Musk, who bought Twitter in October 2022, for $ 44 billion, has requested a large number of changes to the platform of the platform, whether for the user experience or behind the scenes.
Earlier this week, it was announced that users who do not pay for the blue tick will not be able to vote in polls.
He also said that users who don't pay a fee won't have their tweets appear in the For You tab, incentivizing people to look for Twitter Blue.