Varanasi: Prime Minister Modi on Friday (Jan.13) flagged off the MV Ganga Vilas, the world's longest waterway cruise ship, through video. Along with this, he also laid the foundation stone for various inland waterway projects worth Rs.1000 crore.
MV Ganga Vilas, a luxury cruise ship, embarked on its maiden voyage today from Varanasi in the Prime Minister's constituency of Uttar Pradesh. Prime Minister Modi flagged it off through video. MV Ganga Vilas, the first-ever made-in-India luxury cruise ship, started its journey from Varanasi, crossed 5 states via Bangladesh and covered 3,200 km in 51 days to reach the port of Dibrugarh in Assam.
New Age of Tourism: Speaking on the occasion, the Prime Minister said: It is a very important moment to inaugurate the world's longest waterway on the Ganges River. This project will usher in a new era of Indian tourism.
I would like to say something to the passengers on board the luxury ship Ganga Vilas. India has everything you can think of. There are things here that are beyond your imagination. India cannot be described or defined in words. It can only be felt and experienced by the heart. Because India has opened its heart to all, crossing all boundaries of nation, religion." He said. On this maiden voyage of MV Ganga Vilas, 32 passengers from Switzerland are on board for its entire journey.
50 Tourist Sites in 51 Days: A statement on the journey of the luxury cruise ship MV Ganga Vilas said, "MV Ganga Vilas' journey is designed to showcase the best of the country to the world.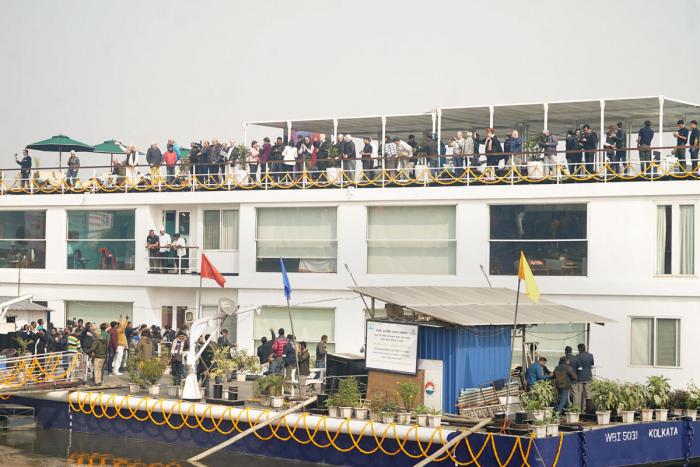 During the 51 days of this trip, one can see 50 tourist destinations like world heritage sites, national parks, river basins, major cities like Patna in Bihar, Sahibganj in Jharkhand, Kolkata in West Bengal, Dhaka in Bangladesh and Guwahati in Assam.
The tour will give tourists an opportunity to learn about the art, culture, history and spirituality of India and Bangladesh," it said.
Beginning of cruise service on River Ganga is a landmark moment. It will herald a new age of tourism in India. https://t.co/NOVFLFrroE

— Narendra Modi (@narendramodi) January 13, 2023