Highlights:
Nagababu satires on Roza
Mega Brother who opened up to Rachcha
Netizens reverse counters
Zabardast means a rainbow of laughter. Many comedians cultivate humor with their style punches on this stage. The show has seemed a bit unfocused in recent episodes, however; Anasuya and Rashmi's beauty anchoring is another height if comedians' skits combine to make the show a success. There is nothing special to say about judges anymore. Nagababu, the king of laughter, and Roza have been judges for a number of years since the show began. However, Nagababu, who recently resigned from the seat, later did comedy shows like 'Adirindi' and finally put a full stop to them.
Mega Brother immediately starred in Earnings through his own YouTube channels in view of the special image he had. Staying active on social media and responding to the happenings in the society from time to time, he is introducing the standup comedy to the Telugu audience through his YouTube channel under the name 'Khushi Khushiga'. In this context, his comments on Judge Roza have become a hot topic.
Box office gems .. Tsunami of gully fighter records .. This is the 5 Days Report
Roja and Nagababu, who started their journey with a formidable comedy show on television, continued their never-ending journey for almost seven years. Week after week Josh doubled in and entertained the audience. It is no exaggeration to say that Roja and Nagababu's laughter enliven the punchy dialogues of Zabardast comedians. But now Nagababu has left the judge's seat and is back as a comedian.
Mega Brother who chit chatted with fans through his social media account Insta .. opened up in response to many questions asked by netizens. In this sequence .. When a netizen asked, "Sir, who is your favorite comedian in Zabardast?" This comment made by Mega Brother satirically has become a topic of discussion among the people.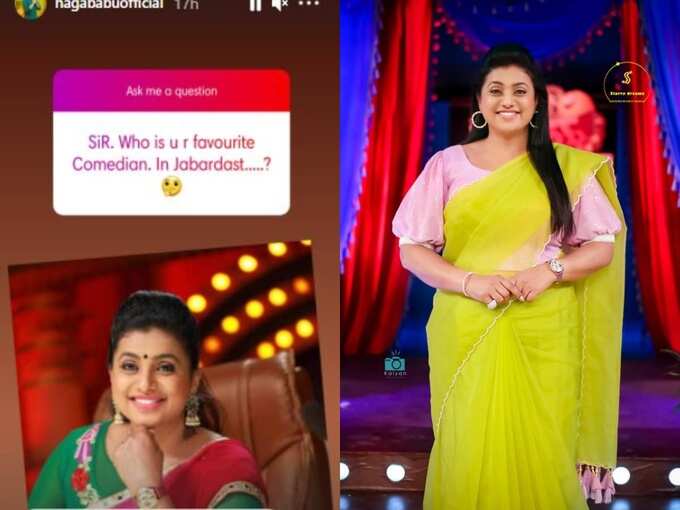 However, after seeing this comment made by Nagababu, netizens are putting counters on him in reverse. Everything is fine but Nagababu is making comments that make you think he has missed a little logic. "Roza is a comedian sitting in the judge's seat, but he's like a joker too .. the same calculation," says Logics. This means that netizens say that if Satire wants to come up with something against Roza, they will almost hit him and get stuck.
.