New Delhi: The Mughal garden at Rashtrapati Bhavan, the official residence of the President, is named 'Amrit Udyan'. The new name comes as part of the celebration of the nectar of independence.
The President's co-spokesperson Navika Gupta said: "As part of the celebration of 75 years of independence, President Draupadi Murmu has named the garden known as the Mughal Garden at the President's House as 'Amrit Udyan'.
The garden is also open to the public on Sundays. Also, this scheme will be open for two months from 31st Jan to 26th March. Apart from these, some days will be specially reserved for the differently-abled, farmers and women," he said.
In this regard, the website of the President's House has also updated about Amrit Udyan. In it, 'Spreading around 15 acres, Amrit Udyan is often depicted as the soul of the President's House. Amrit Udyan Garden, a Mughal garden in Jammu and Kashmir, and the gardens surrounding the Taj Mahal, were created under the influence of Persian miniature paintings.
As early as 1927, Sir Edwin Lutyens finalized the design of Amrit Udyan Gardens. However, the garden was created only in the period 1928-29. Another feature is that it was developed in collaboration with Lutyen's horticulturist William Muston.
Like the Rashtrapati Bhavan building, which is a mixture of Indian and Western architectural styles, Lutyens created this garden by combining Mughal and British styles. Mughal-style canals, decks with flowering shrubs, and English-style flower beds, lawns, and private hedges blend beautifully.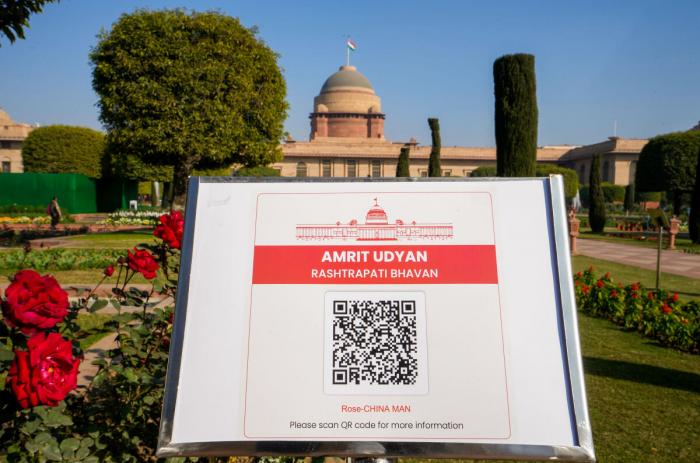 BJP spokesperson Sambit Bhadra posted on Twitter, "It is very necessary to come out of slavery in Amrit era. Accordingly, this is another historic decision of the Modi government to come out of slavery. The Mughal Garden at Rashtrapati Bhavan will now be called Amrit Udyan." Said in Hindi.