Union Home Minister Amit Shah has expressed confidence that the AIADMK, BJP and BJP-led National Democratic Alliance will form a government in Tamil Nadu after April 6 after winning the assembly elections.
Legislative elections are scheduled to be held on April 6 in all 234 constituencies in Tamil Nadu in a single phase. AIADMK, BJP and BJP are contesting in this election.
Home Minister Amit Shah Karaikal, who had already visited Tamil Nadu last week, attended the Villupuram public meetings. Afterwards, AIADMK coordinator and deputy chief minister O. Panneerselvam met Chief Minister Edappadi Palanisamy in Chennai and discussed the Amit Shah alliance.
In this context, Amit Shah has arrived in Tamil Nadu today for the first phase of the campaign after the alliance was confirmed and the constituency allocation was finalized. With the Assembly elections, the by-elections for the Kanyakumari Lok Sabha constituency are to be held. Former Union Minister Pon. Radhakrishnan is contesting the Kanyakumari Lok Sabha elections on behalf of the BJP. Amit Shah went door to door today to collect votes in his favor.
Amit Shah arrived in Nagercoil this morning by helicopter from Thiruvananthapuram to campaign for this. From there he went to Suchindram Thanumalaya Swami Temple by car. There Swami had a darshan.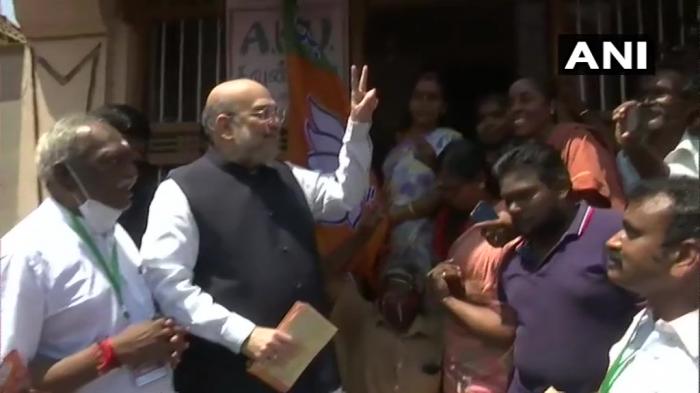 After that, Amit Shah went door-to-door in Nagercoil carrying the victory flag and collected votes during the election campaign.
In an interview, Home Minister Amit Shah said:
"In the general elections to be held in Tamil Nadu on April 6, the National Democratic Alliance will win and form the government. I am confident that the BJP will win the Kanyakumari Lok Sabha constituency as well. I have started a door-to-door campaign to add the lotus symbol to the masses.
We will tell the people the news of Prime Minister Modi. We asked the people to vote for the BJP candidate Pon.Radhakrishnan who is contesting in this constituency. I am sure Radhakrishnan will win this election.
Looking at the enthusiasm of the people in the Lok Sabha and Assembly elections, I am very confident about the results of this election. The National Democratic Alliance will win by a landslide. I hope there will be a coalition government led by AIADMK, BJP and BJP in Tamil Nadu. "
Thus said Amit Shah.
.