The 68th National Film Awards (68th National Film Awards) was held in Delhi with grandeur. The best films of the year 2020 were recently selected.. and the awards were presented today. The actors received the awards at the hands of President Draupadi Murmu. The ceremony was held in grand style at Vighnayan Bhavan in Delhi. Union Broadcasting and Information Minister Anurag Thakur attended the event.
The movie 'Surayaipotru' (Akasame Nee Haddura in Telugu) won the National Best Film. Suriya who played the hero in this movie was chosen as the best hero. Aparna Balamurali was chosen as the best actress. Hero Surya attended the ceremony along with his wife Jyothika. Jyothika taking photo while receiving Surya award.. Surya taking photos while receiving Jyothika award impressed everyone.

Color Photo was the best Telugu movie. This movie made an impression on everyone by showing the caste discrimination in the society.. and proving that love has nothing to do with color. Director Sandeep Raj received this award. Another Telugu movie 'Natyam' won awards in the Best Makeup and Best Choreography categories. Thaman, who composed the music for the movie 'Ala Vaikunthapuramulo', received the Best Music Director award.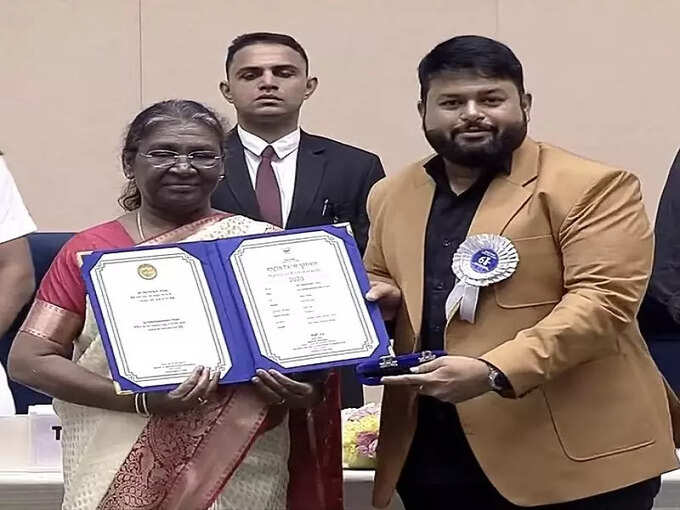 Bollywood star hero Ajay Devgn won the National Best Actor Award for his acting in the movie Tanaji. This is the third time that he has received this award. The film won the National Award for Best Entertainment Film and Best Costume Designer.
The details of the 68th National Film Awards are as follows..

Best Actor: Suriya, Ajay Devgn
Best Actress: Aparna Balamurali
Best Director: K.R. Satchidanandan (Ayyappam Koshiyam)
Best Supporting Actor: Bijumenan (Ayyappam Koshiyam)
Best Supporting Actress: Lakshmi Priya Chandramouli (Shiva Ranjineyumu Innum Sila Pengalum)
Best Child Actor: Varun Buddhadev (Tulsidas Jr.) – Special Mention
Best Music Director: Thaman (Ala Vaikunthapuram)
Best Background Music: GV Prakash Kumar
Best Costume Designer: Nachiket Barve, Mahesh Sherla (Tanaji)
Best Lyric: Saina (Manoj Mouthshir)
Most Film Friendly State: Madhya Pradesh
Best Stunts: Ayyappanum Koshiyam
Best Choreography: Natyam (Telugu)
Best Dancer: Sandhya Raju (Dance-Telugu)
Non-feature films..

Best Voice Over: Shobha Rhapsody of Rains-Monsoons of Kerala (English)
Best Music Direction: Vishal Bharadwaj (1232 KM: Marenge To Waheen Jakar) (Hindi)
Best Editing: Anadi Athale (Borderlands)
Best On Location Sound Recordist – Sandeep Bhati, Pradeep Lehwar (Jadui Jungle) (Hindi)
Best Audiography (Final Mixed Track): Ajit Singh Rathore (Pearl of the Desert) (Rajasthani)
Best Cinematography: Nikhil S Praveen (Sabdikun Kalappa) (Malayalam)
Best Direction: RV Ramani (O That's Bhanu- English, Tamil, Malayalam, Hindi)
Best Family Film: Kumkumarchan (Marathi)
Best Short Fiction Film: Kachichinuthu (Assam)
Special Jury Award: Admitted (Hindi, English)
Best Investigative Film: The Savior: Brigadier Pritam Singh (Punjabi)
Best Exploration Film: Wheeling the Ball (English, Hindi)
Best Educational Film: Dreaming of Words (Malayalam)
Best Film on Social Issues: Justice Delayed But Delivered (Hindi), 3 Sisters (Bengali)
Best Environment Film: Mana Aru Manuh (Assamese)
Best Promotional Film: Surmounting Challenges (English)