Last Updated: 22 Jun, 2022 05:50 AM
Published: 22 Jun 2022 05:50 AM
Last Updated: 22 Jun 2022 05:50 AM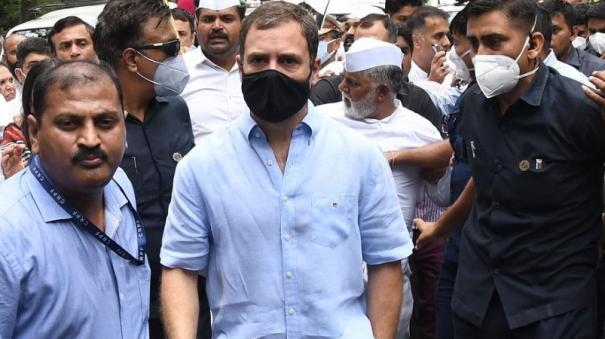 New Delhi: The National Herald is published on behalf of the Associated Journals (AJL). Allegations of money laundering arose over the transfer of AJL shares to Young Indian.
The Enforcement Department has registered a case and is investigating. Congress leaders Sonia and Rahul were summoned by the Enforcement Department.
Accordingly, Rahul Gandhi appeared at the Enforcement Department headquarters in Delhi for 3 consecutive days last week. He was interrogated for 30 hours. Following this, the authorities conducted a serious investigation on Rahul on the 4th day the day before yesterday. The trial lasted until midnight. The investigation lasted for 42 hours until yesterday.
In this context, Rahul Gandhi appeared at the Enforcement Department Headquarters on the 5th at 11.15 am yesterday. Heavy police security was put in place in the area ahead of Rahul's arrival. 144 Prohibition Order was issued.
Meanwhile, the corona infection was confirmed to Sonia Gandhi after the enforcement department sent a summons. Thus he was admitted to the hospital and did not appear for the hearing. He returned home from the hospital the day before yesterday. Doctors have told Sonia to rest for a few days.
.