Kolkata: Mohan Bhagwat said that although the paths are different, the goal of both Netaji and RSS is the same.
RSS function was held in Kolkata on the occasion of Netaji Subhash Chandra Bose's birth anniversary. State BJP President Sukanda Masumdar, Assembly Opposition Leader Suvendu Adhikari and others in RSS uniform participated in this.
Also, uniformed volunteers also participated in large numbers. Speaking among them, RSS leader Mohan Bhagwat said, "We should be grateful to Netaji Subhash Chandra Bose. RSS remembers him not only for his valuable contribution to the freedom struggle but also to ensure that we imbibe his qualities. His dream of the India he wanted to build has yet to materialize. We have to work to achieve it.
Subhash Chandra Bose first joined the Congress party and participated in its satyagraha protests. But he realized that that alone was not enough for the country to achieve independence. After this, he chose his path to freedom. Congress' path and Netaji Subhash Chandra Bose's answer is different. However, the purpose is not different. Same purpose.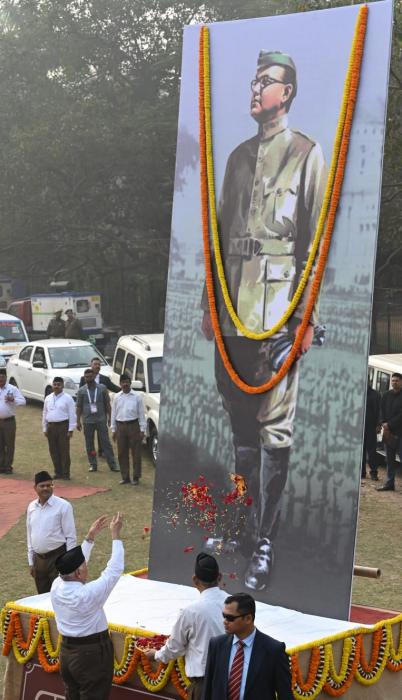 We should follow the ambitions of Subhash Chandra Bose. His goals were the same as those of the RSS. India is the smallest form of the world; Netaji had also said that India should provide relief to the world. We should all work towards that," he said.
It is significant that Mohan Bhagwat has said this while some have criticized that the principles of RSS and the principles of Netaji Subhash Chandra Bose are different and that Netaji believed in secularism and RSS believed in Hinduism.