Dutch Prime Minister Mark Rutte on Monday condemned the unrest sparked by three nights of anti-Covid-19 protests, describing it as "pure violence" carried out by "idiots", as he put it, while vowing to prosecute those responsible.
Rutte told Dutch media that the riots that took place in several cities across the country since Friday were "pure violence under the guise of protest," according to AFP.
He also added that he would always defend the right to protest, but "I will never accept that fools use sheer violence," as he put it.
arrest 145
These statements come as unrest erupted in the Netherlands on Sunday, for the third consecutive night. The number of arrests over the 3 days of protests reached 145, according to the police and local media.
To that, Ruti added: "They are purely violent explosions targeting the police, firefighters and people in ambulances, and they have nothing to do with the demonstration," according to RTL News. He stressed that "the police and the judiciary will do everything in their power to hold those involved accountable."
From a street in The Hague on November 20 (AFP)
"On the pretext that they are upset"
He continued, "I realize that there is great tension in society because we have had to face the misery caused by the Corona virus for a long time, and as Prime Minister, I have always fought for the right to demonstrate in this country within the framework of our democracy and the rule of law."
However, he clarified, "What I will never accept is that idiots use sheer violence on the pretext that they are upset."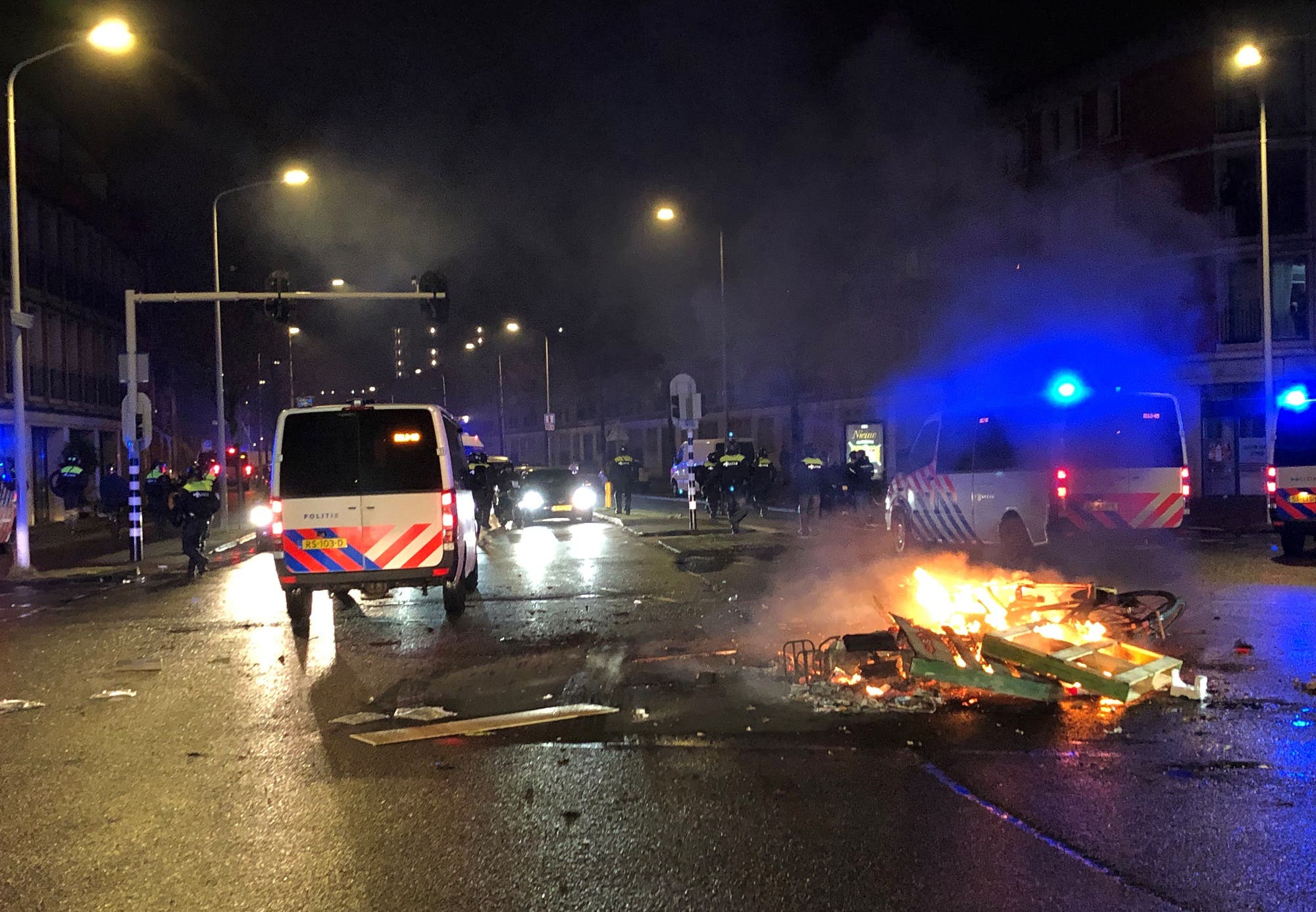 From a street in The Hague on November 20 (AFP)
Riots and clashes
It is noteworthy that the Netherlands had announced last week the imposition of a partial closure to deal with the outbreak of Covid-19 cases, and imposed a set of health restrictions affecting especially the restaurant sector, which had to close by eight in the evening.
The unrest began Friday when a demonstration against Covid restrictions in the coastal city of Rotterdam turned into a large-scale riot during which police shot, leaving 4 people injured.
Five policemen were injured in The Hague on Saturday night in clashes with demonstrators who threw fireworks and stones and burned bicycles.