When you're struggling to fall asleep at night, it can be very tempting to grab your phone and start scrolling through Instagram, but hours can go by without noticing that it's four in the morning and you haven't slept yet, as you're engrossed in watching photos and videos.
However, a new update from Instagram will soon make this a thing of the past. Meta, which owns both Instagram and Facebook, has launched two new tools to encourage teens to manage their time when using these apps.
These updates are designed to help teens feel in control of their online experiences and help parents feel equipped to support their teens.
Send a notification
The first new tool is to send a notification to teens if they spend too much time on Facebook, where they will see a notification when they spend 20 minutes on the app, asking them to take some time away from the app and set daily time limits.
They will also receive an Instagram "alert" if the app detects that they are watching "reels" continuously at night.
In addition, Meta stated that it is looking for a new update that would cause teens to close the app if they are scrolling reels at night.
The new features come shortly after the launch of Quiet Mode on Instagram, a feature that encourages users to set boundaries with their friends and followers.
Quiet Mode mutes notifications and sends automatic replies to direct messages.
"quiet mode"
It's also adding a new "in silent mode" status below Instagram profile names, accompanied by a small crescent moon icon for others to see.
App users can toggle quiet mode on and off in the app's settings and choose to set a time period for it to activate automatically.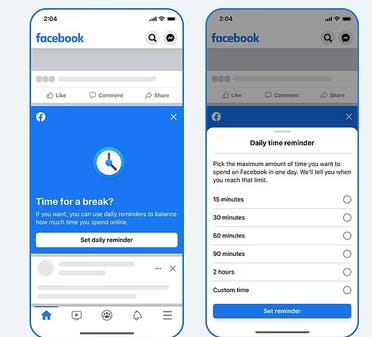 Users will also receive an instant prompt asking if they want to turn on quiet mode after they spend "a few minutes" on Instagram at night.
It is noteworthy that the "quiet mode" is already available to users in the United Kingdom, the United States, Ireland, Canada, Australia and New Zealand, but it will now be rolled out globally.