Last Updated: 11 May, 2022 05:35 AM
Published: 11 May 2022 05:35 AM
Last Updated: 11 May 2022 05:35 AM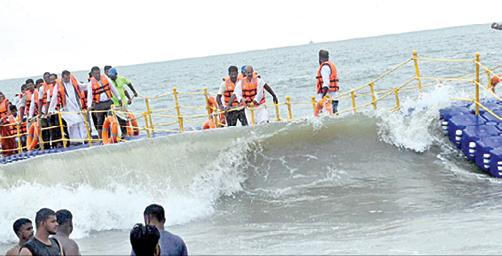 Bangalore: A 100 meter long floating bridge was constructed at Malpe beach in Udupi district of Karnataka at a cost of Rs 80 lakh. The bridge was inaugurated on the 6th of this month.
The floating bridge was severely damaged when tourists left on the 8th. Thus some of the tourists fell into the sea. The accident was averted as the guards rescued them safely. The district administration has said that the floating bridge will be temporarily closed due to damage caused by the sea rage.
Former Congress minister UT Khader said, "The collapse of the floating bridge on the second day of its opening has raised various doubts about its construction. There has been massive corruption in building this. The main reason for the damage to the bridge is that the BJP government led by Chief Minister Basavaraj Puppet bought 40% commission, "he alleged.
.