New Delhi: The National Intelligence Agency and the enforcement agencies are conducting raids in 13 states including Tamil Nadu across the country based on complaints of terrorist links and funding to terrorist groups. In this regard, officials said that more than 100 Popular Front of India leaders have been arrested across the country.
The raids, which began in the early hours of Thursday morning, are targeting individuals, groups and BFI offices suspected of aiding terrorists at various locations across the country. The National Investigation Agency and the Enforcement Directorate are also involved in the investigation with the help of the local police.
Officials said that in this mega raid, raids were conducted at homes and residential areas of people suspected to be involved in activities such as financing terrorist groups, organizing training camps, inciting people to join banned movements, and the homes and offices of national, state and local leaders of the BFI.
In Tamil Nadu, NIA officials are conducting raids at the homes of BFI executives in Coimbatore, Cuddalore, Ramanathapuram, Dindigul, Theni, and Tenkasi, as well as at the FBI state headquarters in Purasaivakam, Chennai.
The trial is also underway in other states including Telangana, Kerala, Andhra Pradesh, Uttar Pradesh.
The Popular Front of India said in a statement, "The homes of national, state and local leaders of BFI are being raided. State headquarters are also being raided. We strongly condemn the fascist trend of using agencies to suppress dissenting voices."
Meanwhile, BFI and STBI parties protested against these raids in Mangalore. Karnataka police have arrested those involved in the protest.
Chennai, Coimbatore raids, arrests: Tests are being conducted at many places in Tamil Nadu like Chennai and Coimbatore. NIA officials raided the house of PFI executive Ismail in Karumbukkady, Coimbatore. Later, the authorities took Ismail for questioning. As a result, there was a tense atmosphere of struggle, shouting and confusion.
Cuddalore also raided, arrested: Baiyas Ahmed (32), son of Abu Bakar, lives in Kolakudi village near Kattumannarkovil in Cuddalore district. He is the District President of Cuddalore District Popular Front of India. In this situation today (September 22) N.I. went to his house early in the morning. A team of more than 20 officers raided his house and seized his laptop and two cell phones, arrested him and took him to the Setiyatopu police station for questioning. He was then taken to Chennai for questioning.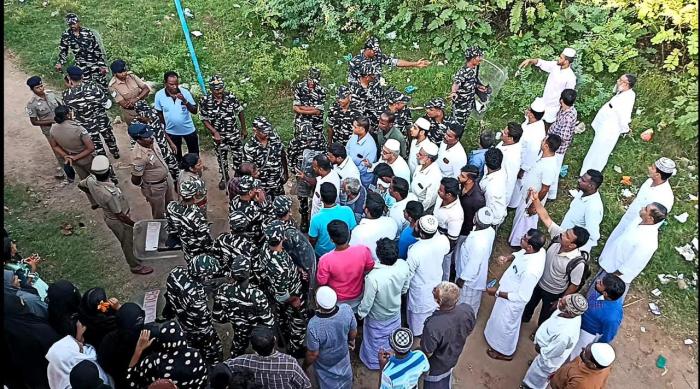 Knowing this, the administrators, volunteers and his relatives of Popular Front of India organized a road blockade on the Chidambaram-Kattumannarkoil road. Following this, the NIA officials have set barricades in the area where Bayas Ahmed's house is located and have kept the entire area under control without letting anyone in.