Train traffic to and from Amsterdam has come to a standstill due to a malfunction. According to the NS, the trains will no longer run tonight. Travelers must arrange alternative transport. It is unclear how long it will take before the malfunction is resolved. The NS says that travelers should also take delays into account on Monday morning.
Hundreds of train passengers fell victim to the disruption. A spokeswoman said at the beginning of the evening that people should no longer come to the stations. "We ask travelers to arrange alternative transport themselves. For example via #trainpooling. Of course, the money-back-for-delay scheme applies and NS will also deal appropriately with extra costs incurred," said the NS.
Due to the malfunction at the traffic control center at ProRail, no trains have been running on the routes to and from Amsterdam Central since Sunday afternoon. The first trains were able to run again around 8 p.m., but rail traffic was halted again at 9 p.m. Subsequently, train traffic to and from the surrounding stations, such as Schiphol Airport, was no longer possible.
Also problems around Utrecht
Travelers in the rest of the country may also experience inconvenience as a result of the problems around Amsterdam, the Dutch Railways warns. For example, the municipality of Utrecht reports that train traffic will not be possible around Utrecht Central for the rest of the night. It is expected that travelers will also be affected by the disruption on Monday morning. We advise travelers to consult the NS journey planner before departure.
ProRail previously stated that a malfunction such as this cannot be dealt with by telephone contact with the drivers, because many trains run per hour in and around Amsterdam. The railway manager reports that a solution is being worked on with man and power.
Loud cheer
The first train that arrived at Utrecht Central just after 8 p.m. and continued on to Amsterdam was received with loud cheers. The platform was full of travelers and fans of the British singer. "The driver just announced that the train is making an extra stop at Bijlmer Arena, so that's great for all fans," Marjolein says. the stage is up."
Concert organizer MOJO reports that the concert of the British singer in the Johan Cruijff ArenA started fifteen minutes later due to the malfunction, namely at 9.15 p.m. Hundreds of fans had already gathered at the ArenA on Sunday afternoon, but many people still had to travel there.
Gerben van Dijk from Rotterdam jumped into a taxi with his daughter. "At the place of employment we met another father and daughter. That way we could share the costs. It became more expensive per minute. 140 euros for a ride to the ArenA," he said. "There was some stress when one train after another was cancelled. Now we even have time to eat something. Everyone happy!" And they had succeeded on the way back as well. "Thanks to a digital sign 'Rotterdam' on my daughter's mobile phone at the exit of the parking garage, we quickly had a lift to Rotterdam. From very nice people from Hendrik Ido Ambacht."
Aniek and her friend also saved the concert. ,,After we were able to ride with two sweet girls, after their father came to pick them up. So we are now in our place in the Arena." Coming home now.
Cause
The ProRail spokesperson emphasizes that he finds the nuisance for travelers annoying, in particular for people who are on their way to or returning from the concert of pop star Harry Styles in the Johan Cruijff ArenA and who may therefore not be on time or be able to get home. come. Around 1 a.m., about 500 concertgoers were still waiting in a temporary shelter in the Ziggo Dome until they could go home. Around that time, many groups of people were also sitting or standing on the street near the Johan Cruijff ArenA waiting for transport home. There, at 01:00, it was estimated that there were also a few hundred people.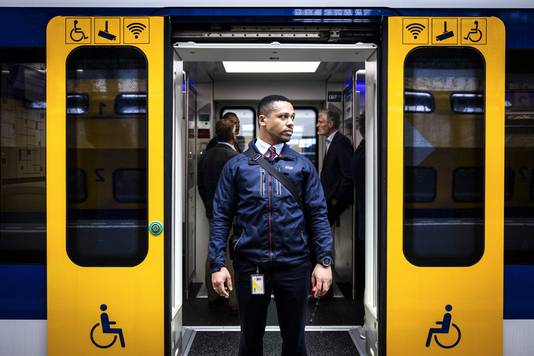 Amsterdam transport company GVB uses extras metros. A spokeswoman says that the situation in the Amsterdam subways with the extra passengers is 'manageable, but we will continue to monitor it'. As far as is known, no extra buses or trams will be used, according to the spokeswoman.
Thousands of fans in time
Thousands of fans were in time for the Harry Styles concert. Dozens of them were ready early this morning for the British pop singer to secure a spot at the front. Some would have been there since 5 a.m. It is the first of three performances that the singer will give this month in the Johan Cruijff ArenA. On Sunday evening there will also be a performance by rock band Ghost in AFAS Live.
Concert organizer MOJO has called on visitors who came to Amsterdam by train on Sunday for the Harry Styles concert to find other transport. "At the moment it is not clear whether the trains will run again after the Harry Styles and Ghost concerts," MOJO writes on social media. Both concerts are expected to end around 11 p.m. "We advise visitors who have come by train to urgently arrange other transport," the concert organizer continues.
The Johan Cruijff ArenA reports that people who do not have transport can go to the Ziggo Dome for temporary shelter. "Buses and metros do run and the stations are only open for that, not for train traffic," said the ArenA organization on Twitter.
17-year-old boy dies after collision with train
There are also no trains between Zwolle and Emmen. That's because of a collision. A 17-year-old boy died on the spot from his injuries because he collided with a passing train with his scooter. The police are investigating exactly how the collision could have happened.
Free unlimited access to Showbytes? Which can!
Log in or create an account and don't miss a thing of the stars.

Yes, I want free unlimited access