Last Updated: 03 May, 2022 12:05 AM
Published: 03 May 2022 12:05 AM
Last Updated: 03 May 2022 12:05 AM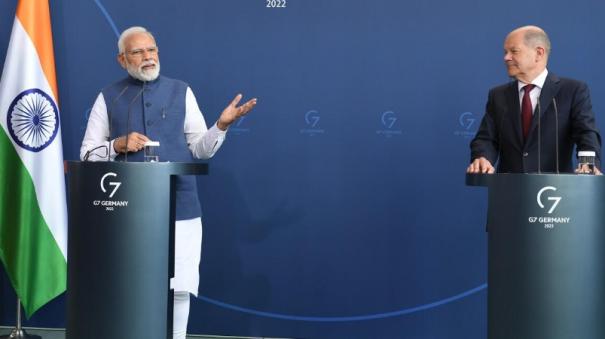 Berlin: Prime Minister Modi has said that apart from the humanitarian impact of the war on the people of Ukraine, the pressure on oil prices and the global food supply has put a burden on every household in the world.
The two leaders held a joint press conference after Indian Prime Minister Narendra Modi held talks with German Chancellor Olof Scholes in Berlin, Germany. Speaking on the occasion, Prime Minister Narendra Modi said: "India has called for an immediate end to the war in Ukraine. Negotiations are the only solution to the conflict. There can be no one who can win this war.
Oil prices have skyrocketed due to the crisis in Ukraine. There has been a shortage of food grains and fertilizers. As a result every family in the world faces the burden. Its impact will be greater in developing and poorer countries. "
German Chancellor Olf Scholes has said that Russia has violated the UN Charter by attacking Ukraine. He said he had invited Prime Minister Modi to the upcoming G-7 summit in Germany.
He arrived in Germany on Monday for the first time in Prime Minister Modi's three – day European tour. There he was given a special welcome. Later, Prime Minister Narendra Modi met with the country's Prime Minister Olof Shoals. They then reviewed the full range of bilateral relations, including providing inspiration for trade and cultural integration.
.