Last Updated: 06 May, 2022 06:49 AM
Published: 06 May 2022 06:49 AM
Last Updated: 06 May 2022 06:49 AM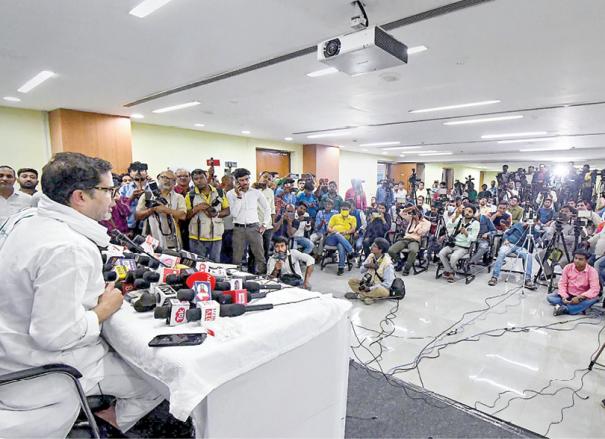 Patna: Political party has not started yet and 3 thousand km across Bihar. Election strategist Prashant Kishore also announced yesterday that he was going on a long-distance pilgrimage.
Prashant Kishor's iPak has been distributing election strategies to various political parties. It was recently reported that Prashant Kishore had met Congress President Sonia Gandhi and offered some suggestions for the victory of the Congress in the upcoming Gujarat elections and the 2024 Lok Sabha elections. It was also reported that he had an internet presence in Congress.
Rejecting the news, Prashant Kishore has agreed to work out a strategy for Chandrasekhar Rao's TRS party in next year's Telangana assembly elections. This shocked the Congress leaders.
In this regard, he said on his Twitter page two days ago, "When I turn my page, I think this is the right time to go to the real masters (people). It will start from Bihar. "
Following this, it was reported that Prashant Kishore was planning to start a political party. In this context, Prashant Kishore told reporters in Patna yesterday:
Lalu Prasad and Nitish Kumar have ruled Bihar for the last 30 years. Yet the state is still in poverty. Is lagging behind by various growth criteria. If Bihar is to be included in the list of developing states in the future, it will require new thinking and new initiative.
So, I plan to meet the people for the next 3, 4 years with the slogan of Good Governance for the People (Jan Suraj). I am going to start the foot pilgrimage from Gandhi Ashram in West Chamber on October 2, Mahatma Gandhi's birthday. 3 thousand km. I'm going to go far and meet people. In the next 3, 4 months I am going to meet some talented people who want to share ideas for good governance. Join them in this movement.
No elections are going to be held in Bihar for now. So, for now there is no intention of starting a political party. If it is decided to start a political party in the future, it will not be in the name of Prashant Kishore. It will be the party of the people. Thus he said.
.