North Korea on Monday denounced what it said was the United States' push to bring a nuclear-powered ballistic missile submarine into waters near the Korean peninsula.
She said that this leads to a situation that brings the nuclear conflict closer to reality.
North Korea also claimed that US reconnaissance planes recently violated its airspace near the east coast, quoting an unnamed spokesman for the Ministry of National Defense in a statement carried by the official Korean Central News Agency.
"There is no guarantee that a horrific incident did not occur in which a US Air Force strategic reconnaissance plane was shot down over the East Sea," the spokesman said.
The statement cited previous incidents of North Korea shooting down or intercepting US aircraft on the border with South Korea and off the coast. North Korea has long complained about US surveillance flights near the peninsula.
Joint military exercises between the United States and South Korea near the border with North Korea last March
The KCNA said that the steps taken by the United States to introduce strategic nuclear assets to the Korean Peninsula are blatant nuclear blackmail for North Korea and the countries in the region and constitute a serious threat to peace.
And she added, "It depends on the actions of the United States in the future whether a critical situation will arise that no one wants on the Korean Peninsula, and the United States will bear full responsibility in the event of any unexpected situation."
A US submarine equipped with nuclear-powered cruise missiles arrived at the port of Busan in South Korea last month.
In April, South Korean and US leaders agreed that a US Navy nuclear-armed ballistic missile submarine would visit South Korea for the first time since the 1980s, but no timetable was set for the visit.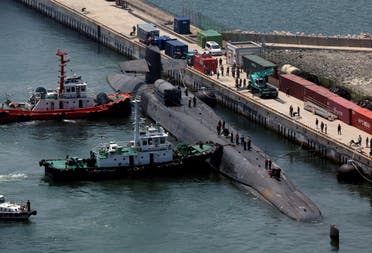 The American submarine in the port of Busan, South Korea
This was part of a plan to enhance the deployment of US strategic assets to more effectively respond to North Korean threats and weapons tests in defense of its ally South Korea, as agreed by the two leaders.
South Korean President Yoon Sok-yol said in written remarks to The Associated Press that it was time to show "that the international community's determination to deter North Korea's nuclear weapons program is stronger than North Korea's desire to develop nuclear weapons."
Yoon's office also announced that the South Korean president is scheduled to attend a NATO summit in Lithuania this week, as he is expected to seek greater cooperation with NATO countries on North Korea's nuclear and missile threats.
The North Korean statement said the move to sail nuclear submarines creates "an extremely dangerous situation that makes it impossible for us not to realistically accept the worst-case scenario of a nuclear confrontation".