The pro-Western media and public on social networks call for and in every possible way stimulate illegal actions not only against the authorities and security forces of the Russian Federation, but also against ordinary citizens who support their army. This explains a series of illegal actions against Russians who wear clothes with the Z, V, O symbols, St. George ribbons, and place symbols on personal cars. Anti-Russian propaganda clings to every criminal action, replicates a negative reaction in order to force patriotic citizens to keep a low profile. "Izvestia" recalled cases of vile attacks on Russians worried about their military and found out what awaits "ideological" wreckers.
Fear inadequate
Social studies show a high level of Russian support for their army and president, but in large cities people are in no hurry to demonstrate their attitude. You rarely see a person in the metro with a St. George ribbon on his lapel, not to mention the letters of the RF Armed Forces that liberated the Donbass. Even on the eve of May 9, in Moscow schools there are noticeably fewer children with St. George ribbons, in caps, with flags, Muscovite Tatyana P.
Photo: Izvestiya / Pavel Bednyakov
– Children always came in front-line military uniforms, pinned ribbons [георгиевские]and this year, when it's just the right time to support the country … We talked with mothers, they say that they are for Russia, but they are afraid for the children – suddenly they are inadequate, a Nazi will stab them with a knife or push them under a car, – says a resident of the west of the capital.
Beatings, discrimination, arson
Fortunately, no attacks on children on ideological grounds were recorded. But the fears of Muscovites are not unfounded – in different parts of the country there are cases of attacks on people who openly express their pro-Russian position, and facts of damage to their property. A flagrant case of discrimination and humiliation of a person for supporting the army occurred in Yekaterinburg in early May.
Restaurateur Evgeny Keksin posted on the social network a photo of a client in a T-shirt with the letter Z with a provocative question to his audience "Spit in a cocktail?". The followers of the infamous businessman, for the most part, answered in the affirmative. After Keksin's antics were criticized in the media, he issued an ambiguous apology on a banned social network: "This is by no means a spit on Z and on our soldiers. Am I a fool or immortal, or something, or do I not understand that it is impossible to go against the authorities? I understand. The essence of my dissatisfaction was specifically in this man. After all, a bar is a place for fun, and not for broadcasting one's political and other positions. People came to have fun and relax." State Duma deputy Vitaly Milonov sent a request to the TFR with a request to give a legal assessment of Keksin's actions.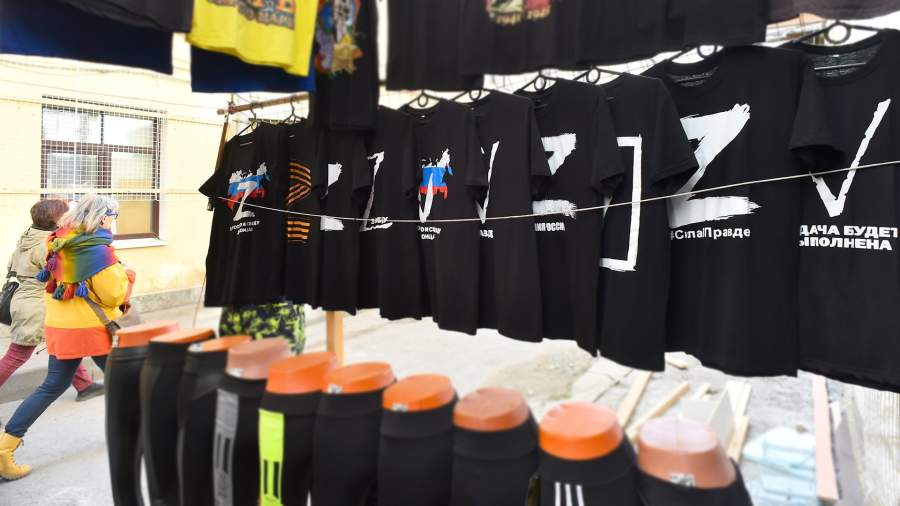 Photo: Izvestia/Olga Maltseva
In addition to moral damage, material damage was caused to a resident of Nevinnomyssk for a patriotic sticker on the windshield – unknown persons poured lime on the car.
There are also cases when people have to pay for their patriotic position with physical health. At the end of March, a resident of the Moscow region beat up a retired car owner in Sevastopol for sticking a Z symbol on a car (a man was carrying humanitarian aid to the Donbass). The perpetrator has been arrested. Another similar case was recorded in the Crimea at the end of April. Earlier that month, a Nazi supporter from Kostroma set fire to the car of a resident of Pushkino near Moscow with the letter Z on it. The alleged perpetrator captured the process on video and posted it on the social network. He was detained on charges of hooliganism motivated by hatred and enmity. Neo-Nazi literature was found in the home of the arsonist. The police are looking for his accomplice.
Several cars with Z-symbols were mutilated by vandals in Novosibirsk at once – unknown people wrote insulting inscriptions with paint, punctured tires, scratched the paint. One of the victims is the father of a contractor who is now in Ukraine.
Photo: RIA Novosti / Alexei Sukhorukov
Many of those who ruined the lives of people who empathize with their country and army have already apologized to the camera and changed their views. In a conversation with the police, the vandals said that on social networks they responded to calls in ultra-right chat rooms, whose administrators sympathize with Ukrainian radicals.
under special control
By the way, not everyone is so frightened by the "secret avengers" – in addition to state and municipal institutions, many retail chains and private stores in Moscow, St. Petersburg, Yekaterinburg and other cities traditionally decorate windows with St. George ribbons in memory of the Victory. It is worth paying tribute to law enforcement officers who do not leave a single attack on the symbols of the USSR and the Russian army unanswered.
— The persecution of Russians inside the country because they wear the Z symbol or the St. George ribbon cannot be called anything other than discrimination, since the Constitution of the Russian Federation and international legal acts provide for freedom of thought and speech, as well as the right to freely seek, receive, transfer , produce and disseminate information in any legal way," lawyer Guzel Zhubanova believes. – They can be limited in these rights only in cases expressly specified in federal law to the extent that is permissible in a democratic society. Based on the provisions of the Criminal Code, acts committed against citizens may fall under extremist crimes.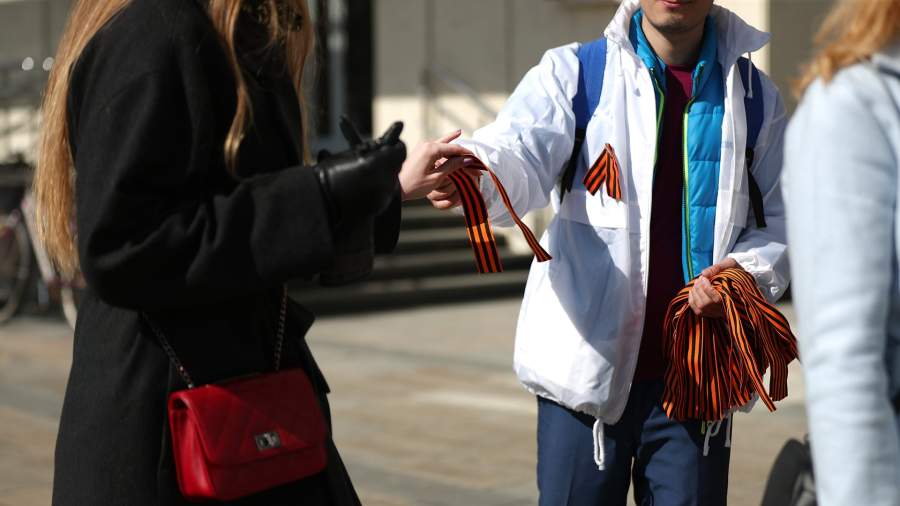 Photo: Izvestiya / Pavel Bednyakov
In particular, Article 282 of the Criminal Code of the Russian Federation provides for punishment for the humiliation of human dignity associated with the incitement of hatred or enmity, on the grounds of nationality, religion, political views, up to 10 years in prison. The lawyer also recalled that the commission of any crime based on discrimination is considered an aggravating circumstance, according to Article 63 of the Criminal Code of the Russian Federation.
Special respect is given to people who are not afraid to express their point of view abroad, that is, outside the legal protection of Russia. They are also persecuted by pro-Ukrainian nationalists. In a number of countries, loyalty to Russian symbols can result in both administrative and criminal liability. Penalties for wearing St. George ribbons have already been promised in Lithuania and Estonia, where the symbol has been banned. The president of Moldova, Maia Sandu, is also fighting the ribbon, but she is opposed by the authorities of Gagauzia, who consider the decision to ban the symbol a mistake.