I am not afraid to think of Prime Minister Modi. If I lie in bed I will fall asleep in 30 seconds. But can the Chief Minister of Tamil Nadu sleep? Congress MP says dishonest Tamil Nadu chief minister cannot sleep Rahul Gandhi Sternly scolded.
The Congress MP will pay a two-day visit to districts including Thoothukudi and Tirunelveli. Rahul Gandhi Has arrived. Rahul Gandhi, who participated in various programs in Thoothukudi, addressed various sections of the people and listened to their grievances. He went to the saltworks and visited the salt production sites.
Rahul Gandhi then came to Nellie and worshiped at the famous Nazareth Church. Then to the people Rahul Gandhi Addressed.
He said:
I am not afraid to think of Prime Minister Modi. If I lie in bed at night I will fall asleep in 30 seconds. But whether the Tamil Nadu Chief Minister will sleep or how long it will take him. The corrupt Chief Minister of Tamil Nadu cannot sleep at night and he is not honest.
Tamil Nadu Chief Minister Edappadi Palanisamy could not ask any questions against Prime Minister Modi just because he is dishonest. Because the Chief Minister of Tamil Nadu is full of corruption Prime Minister Modi He controls the people of Tamil Nadu.
Prime Minister Modi thinks of Tamil Nadu as his television. He takes the remote control and does whatever he wants. The central government controls Tamil Nadu only remotely. Adds and subtracts TV sound if needed. Accordingly, the Chief Minister of Tamil Nadu will speak loudly and slowly. That can control the people of Tamil Nadu Prime Minister Modi Thinks. But, people are going to take the battery away from the remote and throw them away.
I went to the salt making place and saw their work. A worker there told me, 'Salt works against the corona. I make that salt. This salt is sent to make medicine. In particular, the corona is sent for vaccination. Not only salt is produced. I protect the country from the corona. ' This is the beauty of Tamil Nadu.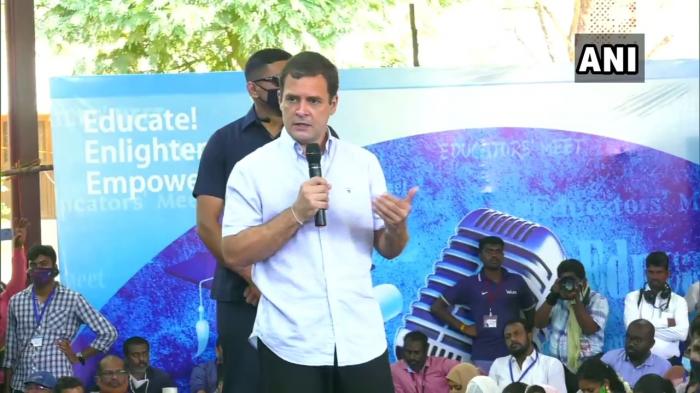 If we want to give India unemployment and stiff competition to Chinese production, we need to encourage our small, micro and medium enterprises. Everything from cell phones to clothes come from China. This can only be prevented through our small businesses. We can get rid of unemployment through small and micro enterprises. If the Tamil Nadu government acts better and more creatively, Made in Tamil Nadu will be possible in Tamil Nadu too. Products made in India are available.
Millions of young people, with incredibly high motivation, energy, dreams, are unemployed. Go to any state in India and you will find more unemployed youth. Work is a big challenge. "
Thus Rahul Gandhi Said.
.