Last Updated : 02 Jul, 2022 06:04 AM
Published : 02 Jul 2022 06:04 AM
Last Updated : 02 Jul 2022 06:04 AM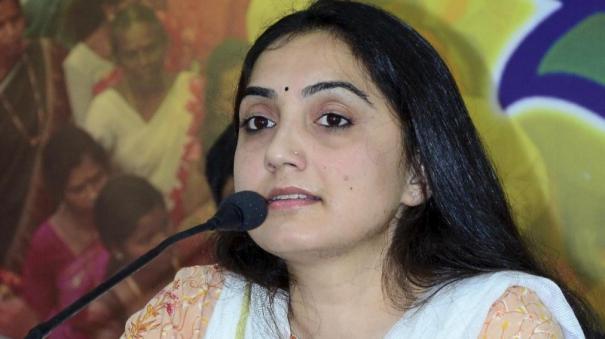 New Delhi: The Supreme Court has ordered that BJP spokesperson Nubur Sharma should apologize to the people of the country for speaking wrongly about the prophet of Islam.
Delhi BJP Spokesperson Nubur Sharma has been sacked from the party for making controversial comments about Prophet Muhammad. Meanwhile, cases were filed in various states demanding action against Nubur Sharma. Nubur Sharma filed a petition in the Supreme Court to transfer all these cases to Delhi for trial.
The hearing on his petition came up for hearing yesterday before a bench comprising Justices Suriyakanth and JP Parthiwala of the Supreme Court.
Judge Suryakant, who heard the petition, strongly condemned Nubur Sharma. Then he said:
Nubur Sharma has set the nation on fire with his irresponsible speech. Nubur Sharma's irresponsible speech was responsible for the murder in Udaipur. Due to his activities, the situation in the country has become what it is today.
His televised debate is reprehensible. How can Nubur Sharma speak out about a case pending in court?
The country has suffered huge losses due to his irresponsible speech. Why hasn't he been arrested yet?
Democracy has given everyone the right to speak. But that right should not be misused. Nubur has spoken in a way that jeopardizes the security of the country. This Court will not allow any transgression of democratic limits. It is too late to say that he is retracting his views after the controversy. Nubur Sharma has ignored the sentiments of the people of the country. This needs to be resolved. Nubur Sharma should first apologize to the entire nation. It would be better for him to apologize in person on television.
And Nubur Sharma has spoken without thinking about the consequences of his speech. Nubur Sharma's petition seeking transfer of all cases to Delhi is therefore rejected. Judge Suryakant said this.
.