Last Updated: 07 Jun, 2022 06:17 AM
Published: 07 Jun 2022 06:17 AM
Last Updated: 07 Jun 2022 06:17 AM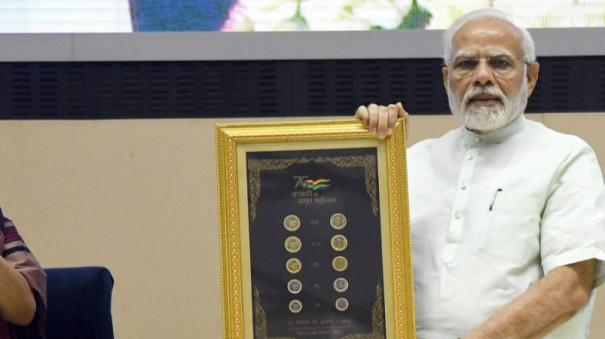 New Delhi: Prime Minister Modi yesterday released special coins for the blind to know.
Special Identity Week is being celebrated on behalf of the Federal Ministry of Finance to mark the 75th Independence Day of the country. This was inaugurated by Prime Minister Modi at a function in Delhi yesterday. Then, Prime Minister Modi issued Rs 1, Rs 2, Rs 5, Rs 10 and Rs 20 coins. These coins can be identified by the blind. These coins are issued with the stamp of the 75th anniversary of independence.
Modi also launched a website called 'Jana Samarth' about 12 schemes of the central government which are being paid directly to the people in their bank accounts. Finance Minister Nirmala Sitharaman said the website would be useful for users to understand and doubt the benefits of the schemes.
Speaking on the occasion, Prime Minister Modi said:
The new coins issued now will commemorate the glory of the country's independence and motivate people to work towards the goals we want to achieve and the development of the country. Transform India's banks and rupee into a key component of the international trade and supply chain. Our domestic banks need to focus on how to make the rupee an integral part of the international supply chain and trade.
India has developed various platforms that cover finance. We need to create awareness among the people about how to use them properly. We should try to expand these financial solutions globally.
The Central Government has been working for the last 8 years with distinction in people-centered administration and continuous efforts for good governance. This initiative of the government has provided permanent housing, electricity, gas, drinking water and free medical care to the poor. Thus spoke Prime Minister Narendra Modi.
.