New Delhi: In India Corona vaccine One year after its introduction, 156.76 crore doses have been administered so far Federal Ministry of Health Reported
According to a report by the Federal Ministry of Health, "92 percent of the adult population in the country takes at least one dose Vaccine 68% of people have paid both doses. "
One year after the introduction of the vaccine, the federal government is releasing a postage stamp at an event this afternoon.
For the first time in the country on January 16 last year Corona vaccine Introduced for people over 60, physicians, and health workers. Only two vaccines, Kovacsin and Covshield, were introduced. For field workers on February 2, 2021, for those over 60 years of age, and over 45 years of age for those with co-morbidities. Vaccine Brought.
Then to all over 45 from April 1st Vaccine Introduced. Thereafter, from May 1, 2021, all those who have completed 18 years of age Vaccine The federal government decided to pay. Next up for the 15- to 18-year-old category is January 3, 2022 Vaccine Payment work started.
In addition, the federal government has been giving precautionary doses of the vaccine to medical and health workers over the age of 60 since January 10.
According to the Union Ministry of Health, "India is one of the most developed countries in the world compared to Western countries Vaccine The payment plan has been successful, extensive, and well-functioning. Vaccine Under the scheme, India has achieved a record 100 crore doses in 9 months, with 2.51 crore doses being administered in a single day and more than one crore doses being administered multiple times in a single day.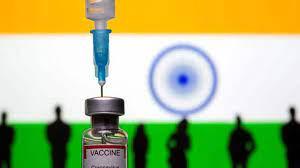 100 crore dose on October 21, 2021 Vaccine Achieved, we reached Michael on January 7, 2022 by paying a dose of 150 crores. So far 43.19 lakh precautionary vaccines have been given. There are 3.38 crore people in the 15 to 18 age group so far Vaccine Have paid. "
.