Seopur: Prime Minister Modi on Saturday unveiled 8 chiving tigers brought to India from the African country of Namibia at the Kuno National Park in Madhya Pradesh. Chivingi tigers, which were considered extinct in India, have been brought back here after 70 years, which is considered a great historical event.
Chivingi tigers were declared extinct in India since 1952. In this situation, various attempts were made by the government to reintroduce them in Indian forests. As a result, an agreement was made with the African country of Namibia in July 2022. According to this, a total of 8 tigers including 5 female tigers and 3 male tigers were sent to India on Friday. Of these, five female chives are between 2 and 5 years old. Male chives are 4.5 to 5.5 years old.
All these chives were flown to India on Friday evening by a B747 jumbo jet from the Namibian capital. The flight departed from there and reached Gwalior at 7.55 am on Saturday morning without stopping anywhere. After the immigration customs formalities were over there, Chivingi tigers were brought to Kuno National Park by an Indian Air Force helicopter.
Prime Minister Modi on his birthday, Saturday (Sep 17), inaugurated these chives, brought from Namibia to India as part of a program to ensure revival and diversity in wildlife and their habitats, at Kuno National Park in Madhya Pradesh.
Speaking then, the Prime Minister said, "I am thankful to the Government of Namibia for helping this project to reintroduce chives in India. Unfortunately, chives were declared extinct in India in 1952. Since then, no constructive steps have been taken to bring them back.
The Chivingi Tiger Project, which reintroduces chivingi tigers to India after 70 years of extinction, is our major environmental and wildlife conservation initiative. India has given an important message to the world in this 21st century: ecology and economy are not mutually exclusive fields.
People will have to wait patiently for a little longer to see the fastest tigers in the world. These Chivingi tigers are our guests today at Kuno National Park. We should give them time to make it their home soon," said the Prime Minister.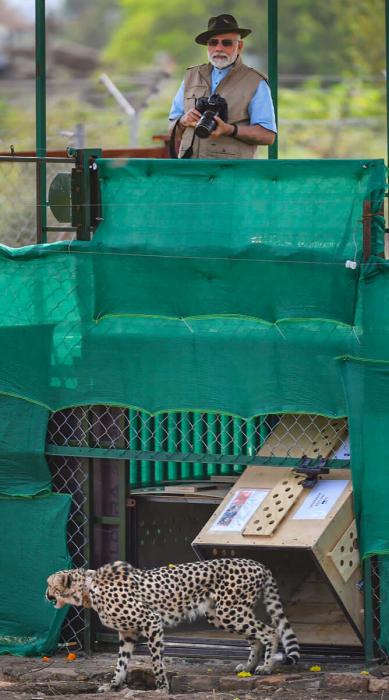 Earlier, Madhya Pradesh Chief Minister Shivraj Singh Chouhan told a news agency, "There can be no better gift for Madhya Pradesh on the Prime Minister's birthday. This is the most important achievement of this century when the tigers have become extinct in India. Tourism will grow with this move. I am the Prime Minister on behalf of Madhya Pradesh for these measures. I express my gratitude to Modi," he said.
Civil Aviation Minister Jyotiraditya Scindia posted videos and pictures of the arrival of the tigers to India on his Twitter page and posted, "The tigers have arrived at their new habitat, Kuno. It's a paradise for our big cats."
The cheetahs have arrived in their new home- KUNO – heavenly habitat for our cats! pic.twitter.com/wlEhKBr2EY