Published: 06 Mar 2022 09:01 am
Updated: 06 Mar 2022 09:05 am
Published: 06 Mar 2022 09:01 AM
Last Updated: 06 Mar 2022 09:05 AM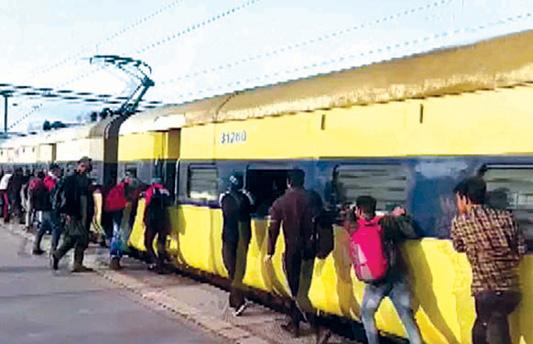 Meerut
The engine of a train parked in UP suddenly caught fire yesterday. The video related to passengers pushing other boxes to prevent the fire from spreading has gone viral.
State of Uttar Pradesh Meerut The Saharanpur-Delhi passenger train was stopped at Daurala railway station in the district yesterday. Then the engine suddenly caught fire. It was spreading to the next 2 boxes and burning. Seeing this, passengers and train station staff pushed the other boxes away to prevent the fire from spreading. Thus the other boxes escaped the fire and prevented a major accident.
The fire brigade went to the scene and brought the fire under control. As a result, train traffic was disrupted for some time. No one was injured in the crash. Authorities are investigating the cause of the fire. Meanwhile, some people who took video of the scene on their cell phones uploaded it on social media. It is being shared fast.
.