Highlights:
Pawan Kalyan is making a film under the direction of Krish
The film stars wrestlers from Uttar Pradesh, Haryana and Maharashtra
The Power Star who sent them in honor
Power star Pawan Kalyan has always respected the stuntmen and fighters in his film. We have seen in the past how he honored the 'Gabbar Singh' villain gang. Every single artist in the gang measures Pawan Kalyan as a god. Recently, however, Pawan Kalyan once again expressed his admiration and respect for the Fighters who starred in his film.
It is known that Pawan Kalyan is currently making a film under the direction of Krish Jagarlamudi. The film is being produced by AM Ratnam under the banner of Mega Surya Productions. YM Keeravani is composing the music for the film which is shaping up to be a period drama. This movie is going to show the ancient martial arts. Sixteen wrestlers from Uttar Pradesh, Haryana and Maharashtra were brought in to perform in a fight sequence featuring these martial arts. The shooting was also completed.
'Nandi' in four languages ​​.. Dil Raju's big plan .. Bada producer who bought the remake rights !!
Pawan Kalyan, who was impressed by the talent of the wrestlers during the filming, paid tribute to all of them. The wrestlers were taken to the Janasena office in Hyderabad and honored. Everyone was greeted spiritually by name and covered with a shawl and presented with a silver statue of Hanuman. Telugu wrestler Kodi Rammurthy explained the greatness of Naidu to them. Born in a remote village in Srikakulam district, he told them how he became a world-renowned warrior and reached the level of doing adventures abroad. Finally, the wrestling team was presented with a donkey.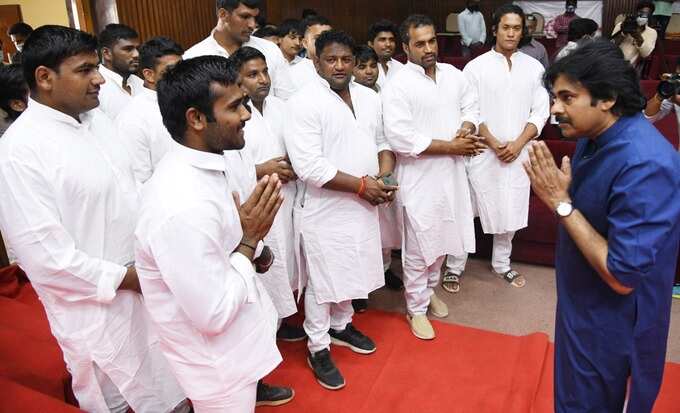 Speaking on the occasion, Pawan Kalyan said that our country needs martial arts practiced with the Guru series and domestic martial arts such as wrestling and sticks should be promoted. He said that mental endurance as well as physical endurance is essential to fight corruption. He warned that bullies and corrupt people would rule the country if they were not mentally and physically strong.

Prabhas: 'Salar' release date fix .. Prabhas who will heat up the summer even more
"Our country is known for its ancient martial arts. For decades, however, the plight of extinction did not go unnoticed. In states like Uttar Pradesh, Maharashtra and Haryana, the culture of war education is still alive. As a kid my dad used to take me to wrestling matches when I was in sarees. A close-up view of the martial arts of warriors like the local Pahilwan Apparao Gary. There was a quest to learn but the body was not cooperative. Kodi Rammurthy Naidu wanted to gain body endurance like Gorilla but did not give up. A few years later I went into martial arts and did some practice though. I specialize in kickboxing, karate and Indonesian martial arts, "said Pawan Kalyan.
.