Paris: Prime Minister Modi, who is in France, was escorted by President Macron to the Presidential Palace.
Prime Minister Modi first went to Germany on a tour of 3 European countries. The Prime Minister of the country met with Olip Scholes and then participated in various events.
From there, Modi traveled to Denmark, where he met with Prime Minister Frederickson.
Following this, Prime Minister Modi attended the 2nd India-Nordic Summit held at Christiansborg Palace in Copenhagen.
Prime Minister Modi toured 3 European countries namely Germany, Denmark and France. As part of this, Prime Minister Modi met the Prime Ministers of Finland, Iceland, Norway and Sweden to discuss bilateral relations.
He ended his trip to Denmark and finally reached France. Modi was received by dignitaries at the Paris airport in the capital. Welcomed by people of Indian descent in Paris. This was followed by a visit to the Chancellery, Elysium Palace.
Ang arrived at the gate of French President Emmanuel Macron and welcomed Prime Minister Modi. The two leaders then held detailed discussions between the two countries on various areas including defense, space and nuclear cooperation.
In a Twitter post released by Prime Minister Modi, he said, "I am as happy as ever to meet my friend President Emmanuel Macron. We talked for a long time about bilateral and global issues. "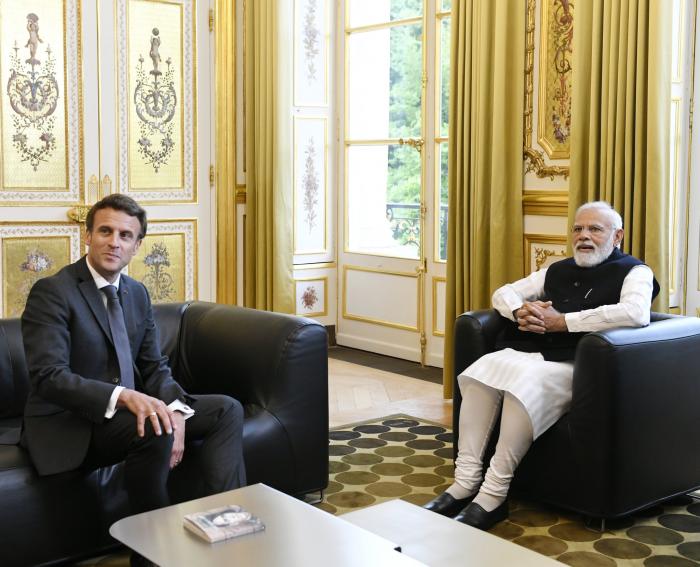 India and France have also issued a joint statement on Russia's war against Ukraine.
"Both countries condemn the civilian casualties in the war-torn country. While calling for an immediate end to the war, India and France have pledged to implement concerted and multilateral action to address the risk of a worsening food crisis in Ukraine due to the conflict.
.