We are fighting against the most formidable enemy (Modi). Congress MP Rahul Gandhi Has satiated.
Two days trip to districts including Thoothukudi and Tirunelveli Congress MP Rahul Gandhi Has arrived. Rahul Gandhi, who participated in various programs in Thoothukudi, addressed various sections of the people and listened to their grievances. Rahul Gandhi then came to Nellie and worshiped at the famous Nazareth Church.
In this case with the college professors at St. Xavier's College in Nellie Congress MP Rahul Gandhi discussed. Then someone asked Rahul Gandhi, "Rather than waiting for you to take power and implement your good plans, the Modi government can carry out those plans."
For that Rahul Gandhi Responding, he said, "We will definitely defeat Modi with the powerful and valuable support of the people. We have to make dreams come true. Some of those dreams will not come true."
We are fighting a mighty (Modi) enemy.
We are fighting the country's monetary strongest enemy, the enemy that will destroy the opposition. We have fought a similar enemy before.
We have defeated the greatest enemy, the English. The British are more powerful than Modi and the people have defeated them. Now this new enemy has arrived. People will send Narendra Modi to Nagpur (RSS headquarters) in the same way they sent the British.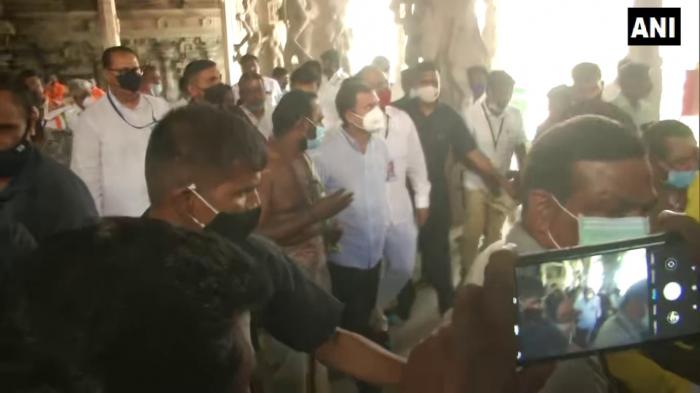 With the support of the people Congress After the party wins, Modi will go into a state of political oblivion. Even if they use the wrong words and violence against us, we will achieve this political victory without inflicting any hatred, anger or violence on Prime Minister Modi. "
In response to a question raised by someone about Hindutva, Rahul Gandhi said, "The ruling BJP government thinks of Hindutva as representative on various issues. But, in reality, it has no faith in Hindutva."
Hinduism does not teach persecution, murder, or attacking people. But, they do it. All religions teach love. But the whole game of the ruling state in the middle is to steal money from the common people, steal money from farmers through agricultural laws and give it to big business.
Thus Rahul Gandhi Said.
.