in these latest weeks it seems that we are in luck, because between the Easter holidayswhich left us in the social networks the top looks of the influencers and celebrities, and the May bridge, which we will enjoy in a few days, it seems that we do not stop preparing our suitcases for our getaways. A baggage that does not have to be too extensive and in which, without a doubt, we will have to include, yes or yes, the most viral combinations that already garner hundreds of thousands of 'likes' on instagramAs the knitted dress of zara who has fallen in love with Dulceida because he is the most comfortable, sexy and in trend this spring 2023, he dress cut out with which Carmen Lomana has confirmed that this type of fashion garments are sexy whether you are 30 or 50 years old and that she has combined with some sensible heels; or the 'guy effect' dress of Mango with which Vicky Martín Berrocal has made us forget about the flamenco dresses of the April Fairthat this in full swing in Seville. But what we will surely want to add to our suitcase for this May long weekend if your destination enjoys good weather will be the printed dress more explosive than ahead of summer and is detachable becoming swimsuit that Pilar Rubio has already worn at an event that took place this Tuesday in Madrid.
And it is that since we have seen the sun's rays several days in this spring 2023we have jumped into the pool without thinking to wear our own clothes for this summerLike the linen dresses or the suits with vest. But that's not all, far from it, because since this new season came into our lives, we have also been able to appreciate the latest trends in the field of swimwear; and mainly from the hand of Victoria Federica, who has given us two impressive poses, one with the black bikini sexier that enhances the neckline (whether you have a small or a lot of chest) and the second with the leopard bikini and lurex that they will love even the most posh girls to get with jeans low rise. But now, the one that has marked trend in this area has been Pilar Rubio, who has swept the Madrid with his printed dress more explosive than advances the summer and it is removable becoming a swimsuit that has the desired 'guy effect'. It is an infallible combination that integrates the new collection that he has designed for the Galician underwear and swimwear firm selmark.
V-neck swimsuit without underwire, from Selmark (88.95 euros)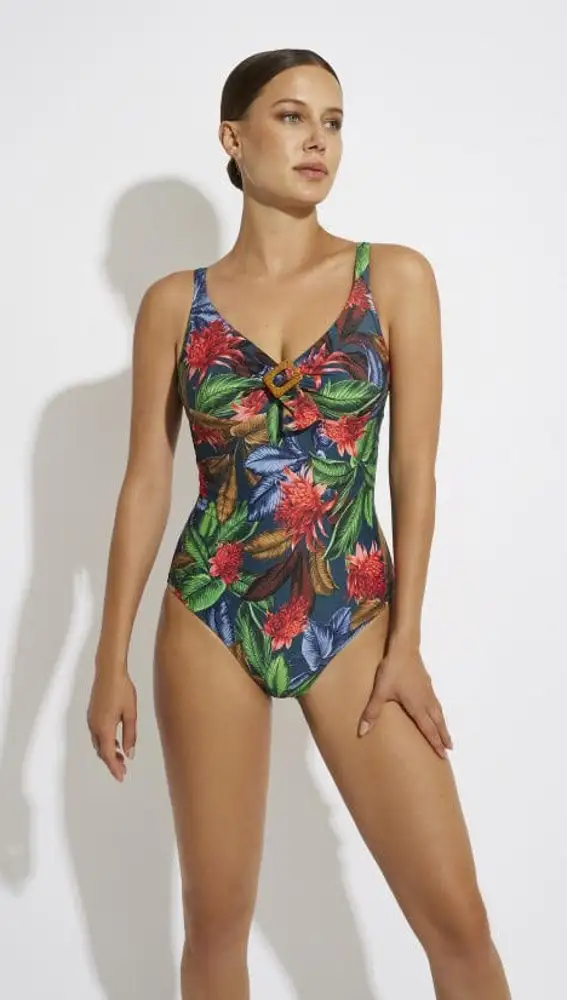 If you wanted to be the queen of the beach bar this may bridgeyou just have to copy the looks in trend to pilar rubiobecause his printed dress who advances the summer and it is removable becoming a swimsuit as well as being the most explosive in your closet, it is also the most flattering and beautiful of this new season.