It is said that 'there is no mantra that a father can speak'. Today is World Father's Day. It is a day when most children celebrate their father by singing. Fathers are everyone's first inspiration as a 'friend, mentor, hero'. It is suitable for everyone from commoners to celebrities. The bond of fatherhood is so noble.
Fathers are high-spirited people who want their children to have what they did not get. How about giving life to one's dream through one's child or standing by one's children's dream and giving life to it.
On this Father's Day, let's see what the sportsmen and women who are rocking the world of sports for India have to say about their fathers.
Sachin Tendulkar (Cricket): "Fathers are every child's first hero. Same for me. Even today I remember my father teaching me. I traveled my way because of His infinite love for me. He would say, 'First you have to be a good person'. That is what I have been telling my son as a father.
Hima Das (Athletics): "My father Ranjit Das was my friend and mentor. He was the one who took me to the field and trained me. It was my father who allowed me to play where only boys used to play. One day while practicing, the plane flew over the place. Then I told him that one day I would fly in a plane too." He said.
Lovelina Borgohain (Boxing): "I learned a lot from my father from a young age. He was the one who instilled the Olympic dream in me. I heard him tell the story of Muhammad Ali. Being a girl child, he supported me to choose professional boxing. He is my guide. "He had faith in his ability," he says.
B.V. Sindhu (Badminton): "My father is my inspiration. I came to play just to see him. "He didn't say anything when I chose badminton." As a child, Sindhu used to travel 60 kilometers every day to train. His father used to go with him then. Sindhu's parents will also be with her during domestic matches. It is noteworthy that Sindhu was accompanied by her father Ramana when she trained for about 3 months before the Rio Olympics. Notably, Sindhu won silver in women's singles at the 2016 Rio Olympics.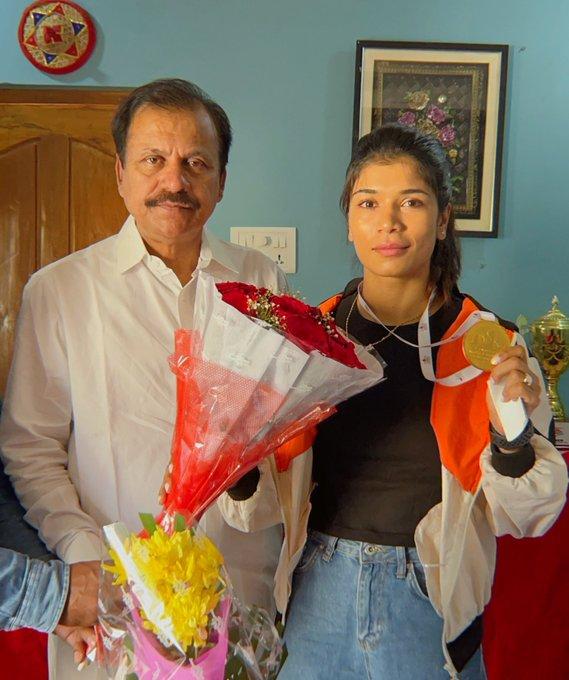 Nikat Zareen (Boxing): "My dad is 'The Rock' for me. He has supported me since the day my boxing career started. Socially I faced few. But then it was my father who stood by me and encouraged me. Even today, during national competitions or trials that I participate in, dad comes and watches it. He never missed any match. "There were times when I was a kid when I used to joke a lot and scold him," he says.
Vedant Madhavan (Swimmer): "My father supports me a lot. He travels a lot. He would call me wherever he was. Will stand by me. He gives a lot of encouragement before the match. He will pray for me. That is the support I get from him. He would take me to practice if he was with me. He speaks properly. Something that an athlete needs both mentally and physically. I get it from my father," he says.
Jaskaran Singh (Hockey Player): "The reason I play hockey is because of my father Rajinder Singh Jr. He was a player in the Olympic medal winning Indian team. Growing up watching him, my passion for the game of hockey stuck with me. He was my first coach. My inspiration," he says