Published: 09 Mar 2021 03:11 am
Updated: 09 Mar 2021 06:12 am
Published: 09 Mar 2021 03:11 AM
Last Updated: 09 Mar 2021 06:12 AM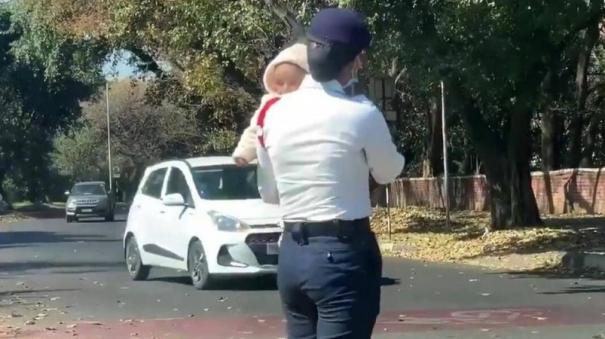 Chandigarh
Organized traffic with infants in Chandigarh Praise to the female police Is accumulating.
Priyanka works in the Chandigarh Traffic Police. He recently had a baby. She joined the service on March 3 last year after 6 months maternity leave.
On the 5th he came to work with the infant and arranged traffic in Sector 29. Motorists passing by took a video of Priyanka working with a baby and posted it on social media. This video is going viral.
Female police officer Priyanka said:
My son was born in less than a month. My husband and family live in Mahendragarh. So I was asked to set aside work near my house in Chandigarh. 2 days assigned work near my house.
But on the 3rd day it was ordered to regulate traffic in the distant Sector 29 area. I carried my baby in my arms because I could not leave him alone. For the time being I have been asked to provide an easy task. This has been accepted by the High Commissioner. Thus he said.
Chandigarh Transport SSP Manisha Chaudhary said, "Traffic cannot be regulated with a child in hand. As soon as I got the information about Priyanka, I ordered her to transfer to another easy job, "he said.
Praise for Priyanka, who was on duty with the baby, has been accumulating on social media.
.