Write down the date, because it will be marked in red in the history books of this country. The big day has arrived, we are facing the last Princess of Asturias Awards with the Princess Leonor being a minor. In a few days she will turn 18, she will swear in the Constitution, and next year she could go without her parents to these awards that bear her name. Therefore, today more than ever, all the focuses are on the Campoamor Theater where they just arrived King Philip, the Queen Letizia and his daughters, Princess Leonor and the Infanta Sofia. If this morning the heiress opted for a pink dress with transparencies from Simorra, for the big gala she chose a two-piece 'New Look' style by Spanish designer Moisés Nieto.
Princess Leonor knows how to shine at her awards and this afternoon she demonstrated it again. In addition to that wonderful navy blue tweed and chiffon ensemble by Moises Nieto, Princess Eleanor wears the Bulgari earrings that King Felipe gave to Mrs. Letizia when she was born. A nice nod to her mother. But returning to Leonor's style, we love the two-piece with the blue tweed top and a pleated full skirt. Plus, with a peplum detail that stylizes her waist, all in Oviedo blue. A color that is undoubtedly one of the Princess of Asturias' favorites and one that she has used on several occasions at these awards.
This is the first time that Princess Leonor wears a design by Moisés Nieto, of which Queen Letizia already has two dresses in her royal dressing room. Moisés Nieto, who was born in Úbeda (Jaén) and has a long career in the world of fashion. It was precisely Doña Letizia who in 2017 presented him with the National Fashion Award in the new value category.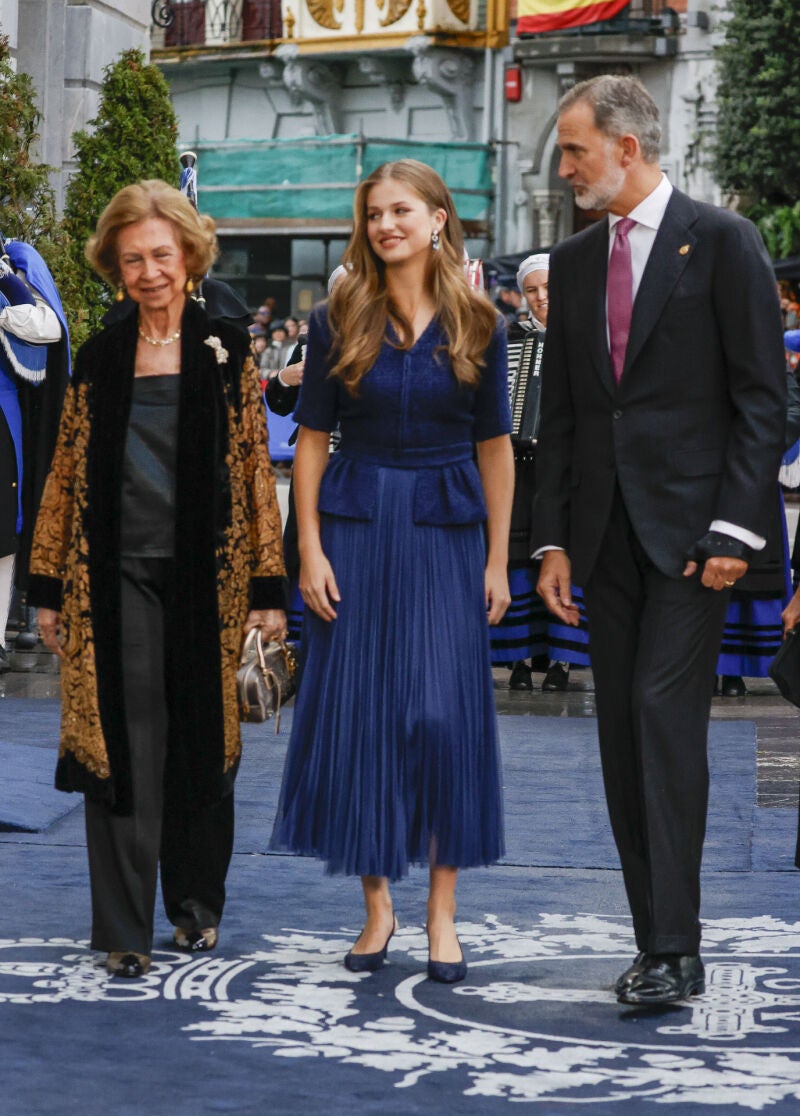 Some awards that distinguish in this edition Meryl Streep, Princess of Asturias Award for the Arts; Nuccio Ordine, Princess of Asturias Award for Communication and Humanities; Hélène Carrère d'Encausse, Princess of Asturias Prize for Social Sciences; Eliud Kipchoge, Princess of Asturias Sports Award; Haruki Murakami, Princess of Asturias Award for Literature; Medicines for Neglected Diseases Initiative, Princess of Asturias Award for International Cooperation; Jeffrey Gordon, E. Peter Greenberg and Bonnie L. Bassler, Princess of Asturias Award for Scientific and Technical Research; and Mary's Meals, Princess of Asturias Award for Concord.
The agenda of the Royal Family in Asturias will extend until tomorrow, when they are scheduled to attend the award ceremony at 11:30 a.m. Exemplary Town of Asturias 2023, which on this occasion receive the parishes of Arroes, Pion and Candanal, in Villaviciosa. A date that last year Princess Eleanor He had to leave due to an illness with the dinner menu. Let's hope that nothing happens this time and tomorrow we can see the entire royal family.