New Delhi: Former Chief Minister of Punjab is all set to go to the polls next year Amarinder Singh Formal alliance talks with the party, the Punjab Lok Congress and the SAD BJP Started today. In New Delhi BJP Amit Shah, senior leader and home minister; BJP National leader JP Natta was received by Punjab Lok Congress leader Amarinder Singh and SAD MP. Dindshah met and talked.
All 117 constituencies in Punjab are scheduled to go to the polls next year. Clashes continued between Amarinder Singh, the then chief minister of Punjab, and Navjot Singh Sidhu, the newly appointed Congress president. Following the culmination of the conflict between the two, the Chief Minister resigned Amarinder Singh Resigned. Subsequently, the new Chief Minister Saranjit Sunny was appointed. Amarinder Singh, who was dissatisfied with the Congress leadership, abstained from joining the party. Twice BJP The senior leader met Home Minister Amit Shah Amarinder Singh The return caused a stir in politics.
Following this he left the Congress party Amarinder Singh He started the Punjab People's Congress. Form an alliance with the BJP in next year's assembly elections Amarinder Singh Tried.
Amarinder Singh's wife Praneeth Kaur is the Patiala constituency MP. Husband Amarinder Singh Praneeth Kaur's going with him everywhere after he left the Congress and started a separate party caused a great stir among the Congress executives and volunteers. In this connection, the Congress leadership sent him a notice asking for an explanation.
Former Chief Minister in an attempt to prevent the Congress party from returning to power in the state of Punjab Amarinder Singh Has been active. Ajay Maken, who was appointed in-charge of the Punjab Congress, has left the wrath of the people as Ajay Maken, the son-in-law of Lalit Maken, who was accused in the 1984 Sikh riots.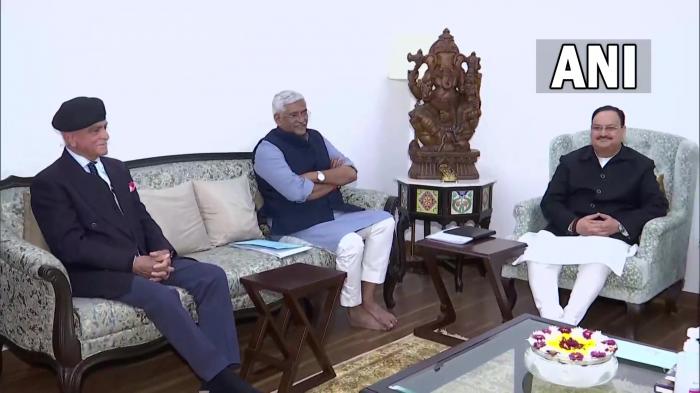 In this context, Sironmani Akalilam, who has been in alliance with the BJP for the last 20 years in the state of Punjab, has washed its hands of the issue of agricultural laws and farmers.
In this context, when he was the Chief Minister of Punjab, Amarinder Singh was a staunch opponent of the BJP in principle and ideology. Came from a traditional congressional family Amarinder Singh There was an expectation that he would close with the BJP or compete alone.
In this case, in order to ensure it BJP National leader J.P. Natta, senior leader Amit Shah Amarinder Singh met them at his residence today and spoke formally about the alliance.
State of Punjab regarding this meeting BJP Election Commissioner Gajendra Singh Shekhawat said, "It has been officially announced that Tinsa, Amarinder Singh's party and the BJP will contest the Punjab elections. Talks will be held soon and the volume allocation will be finalized. The election manifesto will be issued jointly by the three parties. "
.