While we continue to circle with he Tamara Falcó wedding dress that seems more than an inspiration from the Queen Letizia, and the networks even accuse her of plagiarism, the monarch has started the week of the official agenda with different meetings and showing that she does not forget about the Ukrainian war. And it is thatQueen Letizia wanted to start the week with a looks in the most casual way, once showing his support for the Ukrainian population with a blouse from a company from the country. Her Majesty Her Majesty the Queen has received in audience the 24 winners of the scholarships that the BBVA Microfinance Foundation (FMBBVA) awards to children of low-income entrepreneurs. For these young people, access to university studies is more complicated due to their economic and social situation and they are the first generation of university students in their families, and that is where we have been able to see Queen Letizia with an embroidered Ukrainian blouse and again recovering her wedge espadrillesafter training on Friday in Zaragoza the sensible heeled Spanish shoes that Carmen Lomana also loves.
He looks of Queen Letizia To start the week, draw attention to this red linen blouse from Etnodim with machine-sewn flower embroidery. In addition, it has a V-neckline and puffed sleeves. A shirt of Ukrainian culture, and it is known as 'vyshyvanka', since the war in Ukraine broke out, Queen Letizia has worn this style of blouse on more than one occasion to show her support. A pink blouse that she has combined with white pants and has returned to retrieve her white wedge espadrilles.
Women's embroidery shirt with floral Obriy Red, from Etnodim (131 euros)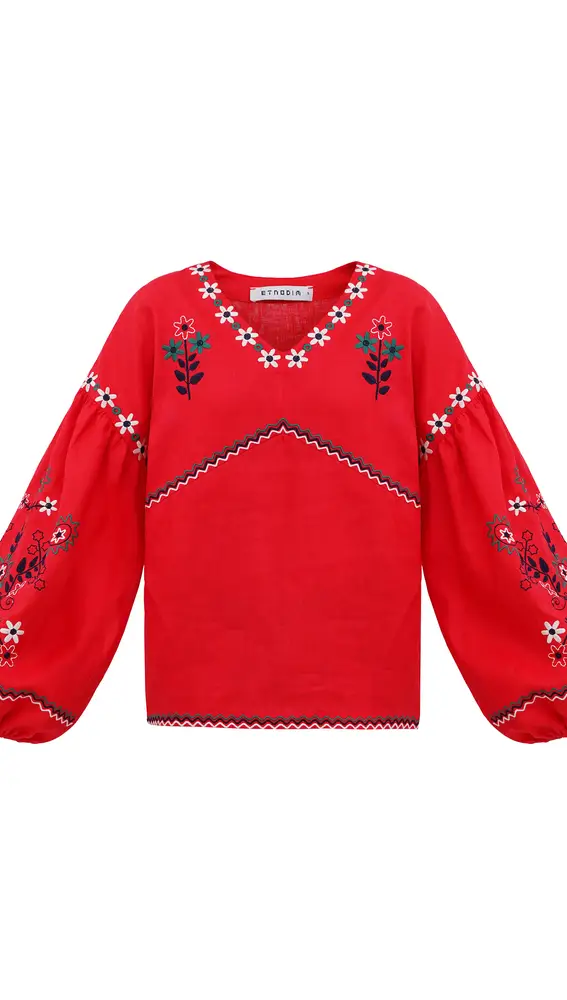 and we can only applaud Queen Letizia once again showing its support for the people of Ukraine so that no one forgets the terrible situation they continue to live in.