Srinagar: The closing ceremony of the Indian Unity Yatra was held at the Pradesh Congress Committee headquarters in Srinagar on Monday. Rahul Gandhi hoisted the national flag amid heavy snowfall in the presence of Congress president Mallikarjuna Kharge and party secretary Priyanka Gandhi Vadra.
After hoisting the flag, Rahul Gandhi enthusiastically engaged in snowball climbing with his sister Priyanka. Rahul Gandhi was wearing his signature white t-shirt with a sleeveless jacket over it.
Earlier, to mark the completion of the Yatra, he hoisted the National Flag and played the National Anthem at the camp office at Panthachawk. Then Rahul Gandhi addressed the people who participated in the yatra with him and said, "Thank you for the support, love and love you have given for 136 days during the yatra that started on September 7 last year in Kanyakumari."
Following the closing ceremony, various opposition leaders participated in a rally led by Rahul Gandhi at Sheikh-e-Kashmir Maidan. The Congress party had invited 21 prominent opposition parties, including the Aam Aadmi Party and the Bharatiya Rashtriya Samithi, which were not part of the National Democratic Alliance, to participate in the rally. Leaders of DMK, National Conference Party, PDP, CPI, RSP and IUML participated in the rally.
India Unity Yatra 2022 It started from Kanyakumari in Tamil Nadu on 7th. From there Kerala, Karnataka, Andhra Pradesh, Telangana. It has traveled 4,080 km through Maharashtra, Madhya Pradesh, Rajasthan, Delhi, Uttar Pradesh, Haryana, Punjab, crossing 12 states and union territories and ending in Jammu and Kashmir.
Throughout this Yatra, Rahul Gandhi participated in 12 public meetings, more than 100 street meetings, 13 press conferences, more than 275 scheduled walking talks, and more than 100 private talks.
For this culminating event, the local administration had made tight security arrangements. For the second day, vehicular traffic was halted in Lal Chowk. Earlier, on Sunday, he hoisted the flag at the historic bell tower of Lal Chowk in Srinagar.
Snowball game: Meanwhile, following the closing ceremony of the Indian Unity Yatra, she shared a video of herself playing snowball with her sister Priyanka.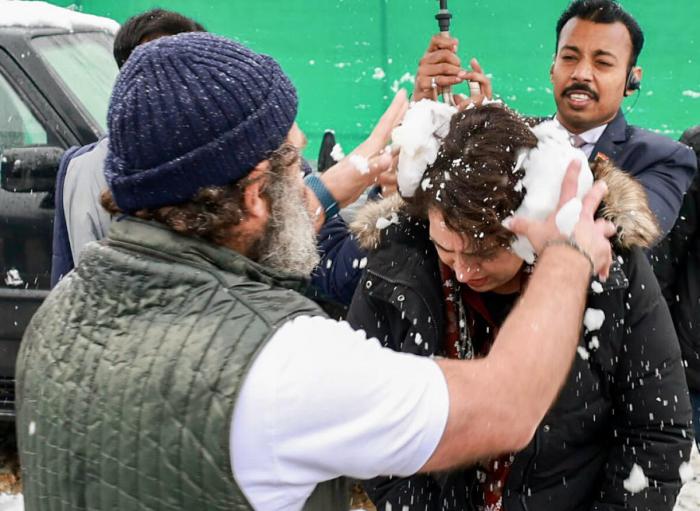 In the video posted on Twitter, he said, "Sheen Mubarak! A happy last morning of India Unity Pilgrimage Camp in Srinagar." In the video, the siblings are having fun throwing snowballs at each other.