Last Updated: 08 May, 2022 08:21 AM
Published: 08 May 2022 08:21 AM
Last Updated: 08 May 2022 08:21 AM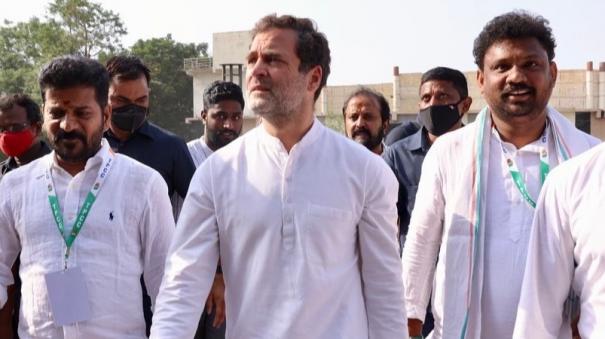 HyderabadTelangana to go to polls in 2024 In this context, senior Congress leader Rahul Gandhi attended a public meeting in Warangal yesterday evening.
When he spoke then, he harshly criticized the ruling TRS party and the BJP. Sonia Gandhi made Telangana a separate state. Therefore, give the Congress a chance, said Rahul Gandhi.
In this context, Rahul Gandhi held a consultative meeting with party executives at the Gandhi Bhavan in Hyderabad yesterday. He then said, "In the coming general elections, the only competition is between the Congress and the TRS parties. The dictator Chandrasekara Rao must be chased away. Seats are not available if you sit at home and drive around Delhi. Many congressional executives are hopeful that seats will be available if they come through the back door and ask. That too will not happen. Everyone will be surveyed and seats will be given, "he said.
.