Last Updated: 18 May, 2022 05:58 AM
Published: 18 May 2022 05:58 AM
Last Updated: 18 May 2022 05:58 AM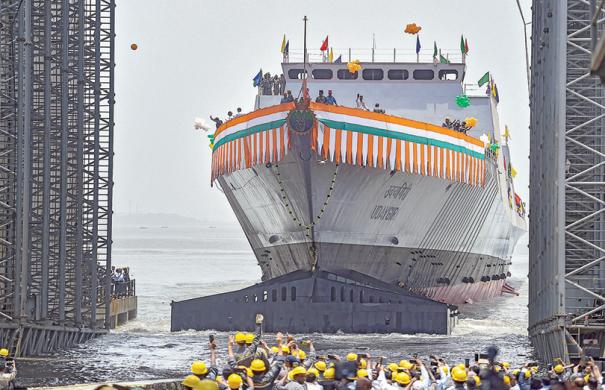 Mumbai: Union Defense Minister Rajnath Singh yesterday dedicated 2 home-made warships to the nation.
B-15B and P17A warships are being built to strengthen the Indian Navy. The B-15B INS Surat and the P17A INS Udayagiri were designed at the Mumbai MTL shipyard and dedicated to the nation yesterday.
Union Defense Minister Rajnath Singh handed over the two warships to the Navy at a ceremony in Mumbai. Then he spoke:
The two domestically built warships are an example of India's capability. India will cater not only to domestic demand but also to global demand in warship production.
The Indian Ocean and the Pacific Ocean are very important in the world's maritime trade. The Indian Navy ensures free movement in these sea areas. The Central Government has been providing various relief assistance to the Indian Ocean countries under the Sagar project. The contribution of the Navy in this is commendable. A strong navy is essential for a country to emerge as a regional and international power. India is moving towards that goal.
INS Vikrant, a domestically built aircraft carrier, is showcasing India's capability and strength to the world. Prime Minister Narendra Modi's dream of "making in India, preparing for the world" will soon come true. Thus spoke Minister Rajnath Singh.
Navy Commander Harikumar and senior commanders, senior defense officials attended the function.
.