The advisor to the commander of the Rapid Support Forces, Mustafa Muhammad Ibrahim, said on Tuesday evening that the Saudi-American mediation is expected to resume its efforts for a cease-fire in Sudan at the beginning of next week.
He added that it is possible that proposals for a cease-fire will be put forward on both sides, after this dialogue stopped due to the Eid al-Adha holiday.
It is noteworthy that the Sudanese army and the Rapid Support Forces reached several ceasefire agreements mediated by Saudi Arabia and the United States, but the negotiations that took place in Jeddah were suspended last month after the army and the Rapid Support Forces exchanged accusations of violating the armistice.
A truce agreement was signed between the two parties last May, under Saudi-American sponsorship
In another context, Hamidti's advisor confirmed that the Sudanese army suffered heavy losses during the battles, as no less than 20 aircraft, including warships and helicopters, were shot down since the start of the battles, and some of the pilots of those aircraft were arrested, according to Ibrahim.
He added that the Rapid Support Forces have enough military funding and supplies to continue fighting for two years. Ibrahim stressed that the Rapid Support Forces do not receive any external support in securing weapons and supplies, pointing out that they have "military and logistical funding and supplies sufficient to continue fighting for about two years, and these supplies and weapons were obtained from the army's sites and warehouses that were controlled." .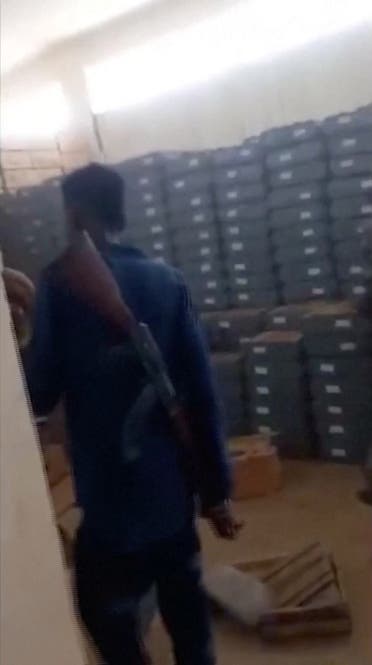 A photo from last June shows the Rapid Support Forces (RSF) in a police weapons depot in Khartoum
He also claimed that the Rapid Response Forces units currently control about 90% of the territory of Khartoum state, which includes both the country's capital and the adjacent cities of Omdurman and Bahri.
Sudan slipped into the abyss of fighting between the army and the Rapid Support Forces on April 15th. Clashes raged between the Sudanese army and the Rapid Support Forces in Omdurman, west of Khartoum, on Tuesday, using heavy weapons and warplanes.