Finally, Renato Tapia wrote an extensive pronouncement on the complaint made by Daniela Castrowho accused him of not recognizing his son out of wedlock.
After the report that exposed the program of Magaly Medina, Renato Tapia decided to rule on the complaint for the recognition of his son, who does not have his last name. Daniela Castro, ex-partner of the soccer player, communicated with the program "Magaly TV, the firm" and attended the set with his lawyer, showing all the evidence of the case. "I regret the way I handled the issue," began the statement from the Celta player. "To make a public apology to every single person in my family who was affected by it," he continued.
Renato Tapia recognizes his son
In the text, the footballer assures that he has recognized that the son of Daniela Castro is his descendant. "Clarify that from the first moment I was present for my son Fabrizio, covering his needs and assuming the obligations that he corresponds to as a father," he wrote. In addition, he assured that he has been trying to reconcile with the mother of his little one for a long time.
"For several months we have been in a conciliation process to reach a formal and orderly agreement, always ensuring the well-being of my son Fabrizio. Unfortunately, this agreement has not yet been possible, but I am sure that we will achieve it as soon as possible ", he added. "We will continue to handle this matter privately, for the good of my son and our family," he concluded. Renato Tapia.
Renato Tapia's statement. Photo: Renato Tapia/Instagram
Renato Tapia blocked the comments on his Instagram after a report by Magaly Medina
After the "bomb" that the premiere of "Magaly TV, the firm" meant, the footballer decided to restrict his Instagram account. Faced with the possible wave of criticism that was coming, Renato Tapia blocked the comments on his account, so no one can leave a message on the athlete's profile. In the same way, his wife Andrea Cordero did the same and limited the interactivity of her networks.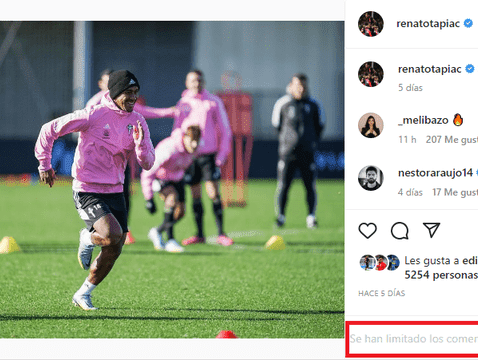 Renato Tapia restricted comments on his Instagram. Photo: Renato Tapia/Instagram
Daniela Castro will be evicted from the apartment that Renato Tapia gave her
According to the ex-partner Renato Tapia, the soccer player made a great promise to the mother of his now well-known son. The athlete gave him an apartment, but the property would be in the name of another person. "I said that my son already has something, but they always ask me if this apartment is in my name and I said 'it's my own, but it's not in my name because Renato has told me' and the least I imagined is that they would tell me I have to leave the department," he said.