Magaly Medina dusted off a past interview with Renato Tapia in which he assured that he would like to have two more children when he already had an unrecognized one.
Magaly Medina returned with force to the screens by dropping the 'bomb' of which Renato Tapia is the protagonist, since this footballer, who was defined as "loved by Peru", became on the blacklist of the characters involved in legal problems . And it is that Daniela Castro, the player's ex-partner, revealed that they have a son in common and that he refused to sign it despite the fact that he and his family knew of the existence of the child under 6 years of age and even recognized the great resemblance of the two.
Daniela Castro files a legal complaint against Renato Tapia to give her son his last name. Photo: Composition/LR/ATV Shot
Renato Tapia wanted to have more children
In a recent edition of "Magaly TV, the firm", an interview from several months ago by Renato Tapia with Jesús Alzamora was presented on the program "La lengua", which went unnoticed until now, since a statement made by the footballer caused an uproar. social networks, since he expressed his desire to have two more children, while he had a second child whom he did not legally recognize.
In the aforementioned conversation, Alzamora asks Tapia: "Do you want to have another puppy or not?", referring to a baby. He immediately says yes, "I would like to have three, so let's see," she said.
What did Renato Tapia say about his unrecognized son?
Before the report presented by Magaly, the soccer player of the Peruvian team spoke through a statement on social networks, in which he said that he regretted the way in which he had handled this sensitive issue.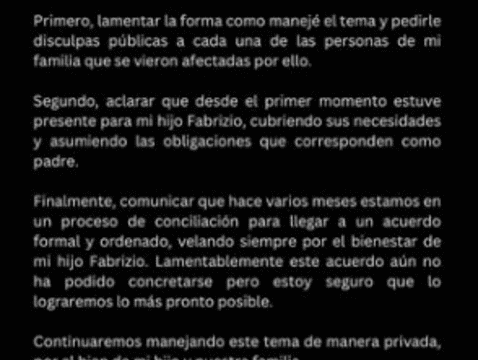 Statement from Renato Tapia after being denounced for not recognizing his son. Photo: Screenshot
"Clarify that from the first moment I was present for my son Fabrizio, covering his needs and assuming the obligations that correspond to him as a father," he wrote. "For several months we have been in a conciliation process to reach a formal and orderly agreement, always ensuring the well-being of my son Fabrizio. Unfortunately, this agreement has not yet been possible, but I am sure that we will achieve it as soon as possible ".