Last Updated: 06 May, 2022 08:17 AM
Published: 06 May 2022 08:17 AM
Last Updated: 06 May 2022 08:17 AM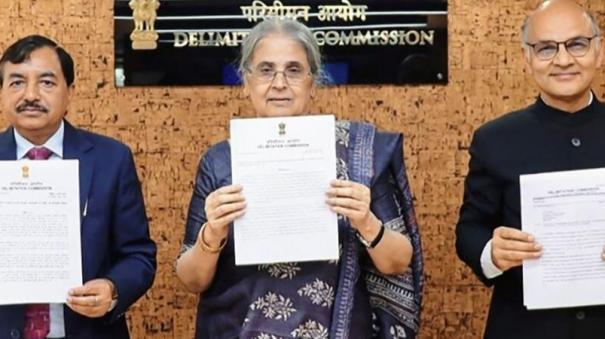 New Delhi: A commission headed by retired Supreme Court Judge Ranjana Prakash Desai has been set up to redefine the Assembly and Lok Sabha constituencies in Jammu and Kashmir after the state of Jammu and Kashmir was divided into two Union Territories. The Commission submitted its final report to the Election Commission yesterday.
It is proposed to increase the number of Assembly constituencies from 46 to 47 in the Kashmir Valley and from 37 to 43 in the Jammu region. Accordingly, the Jammu and Kashmir Legislative Assembly will have a total of 90 members.
In addition, the five Lok Sabha constituencies of Jammu and Kashmir will have an equal number of 18 Assembly constituencies each. The commission has also recommended allocating a total of 9 constituencies to tribals, 6 in Jammu and 3 in Kashmir. This is the first time that a reservation has been given to tribals in the Jammu and Kashmir Assembly.
All Assembly constituencies are subject to the relevant district boundaries.
The Commission has also recommended nominations for the Pandit community and expatriates from Pakistan-occupied Kashmir in the Jammu and Kashmir Assembly.
.