Highlights:
Srimukhi playing an active role on social media
Bustle with the latest photoshoots
Netizen request to put nude photo
Anchor Srimukhi is at the forefront of the list of celebrities who stay active on social media accounts and upload their latest updates and photoshoots from time to time. As a popular anchor of television, Hawa is always in touch with his fans. Participates in live chit chats and answers questions from fans. In this context, in the latest chit chat, Ramulamma acted very cunningly as she was facing a strange experience.
Srimukhi recently conducted an interaction session with his followers. Srimukhi mentioned in his Instagram stories that he would send photos to fans and if asked any interesting things, a netizen showed great enthusiasm and asked him to put a nude photo together. Srimukhi reacted immediately and posted a poster of the movie 'Nagnam' directed by Ram Gopal Varma. She also posted a screenshot of the taluk on her Instagram story. With this it is the tribe going viral on social media. Netizens say Srimukhi's wit and tact in this regard is super.
That is why flat especially in Mumbai! Rashmi is nowhere to be found .. The selling range is not normal !!
Srimukhi is currently hosting some shows on the big screen and also starring in several big movies. The muddugumma is playing the lead role in the upcoming movie 'Crazy Uncles' directed by Sattibabu .. Young hero Nitin is also acting in the upcoming Telugu remake of 'Andhadun' as the hero. On the other hand, he has decided to venture into the business sector and has recently started a new business called 'Louie'.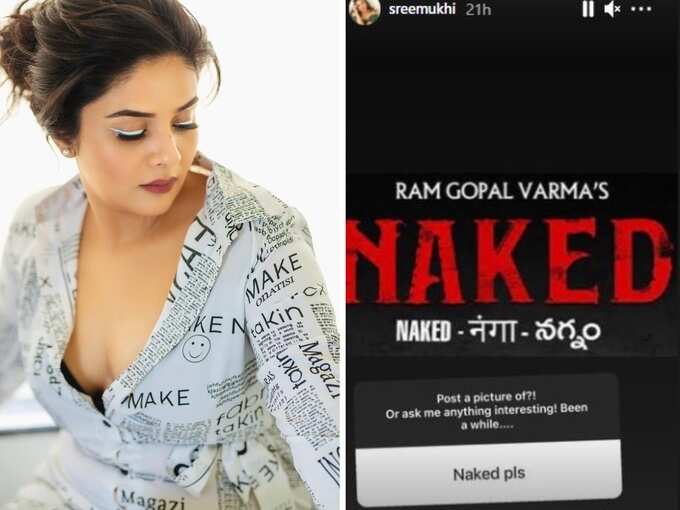 .