Rosa Fuentes, still the wife of Paolo Hurtado, shook social networks after revealing that the footballer apparently had planned to surprise her with a party to renew their vows, since they were about to celebrate 10 years of marriage. However, the relationship ended after discovering the ampay issued by Magaly Medina on March 21, in which the athlete is seen in compromising situations with Jossmery Toledo in Cuzco. Likewise, the lady stressed that despite the difficult moment she is going through, she will get ahead for her children.
"For some time, I look forward to every March 23 with emotion, with beautiful memories, with nostalgia. I was looking for my best photo and posted how happy and proud I was to celebrate one more anniversary. My friends know that on December 7 or 23 March are special dates for us", reads the first paragraphs of the long message that Fuentes published on her Instagram account, which already has thousands of likes, but was written by her the day before.
Rosa Fuentes is pronounced after ampay. Photo: Instagram
Paolo Hurtado was going to ask him to renew his vows
In another part of the message, Rosa Fuentes mentions a supposed surprise that the soccer player Paolo Hurtado had thought of doing for their ten years of marriage. "Today (March 23) I found out that PH was organizing a party, apparently we were going to renew vows or something like that, and everything would be a surprise of love for me. And what about a way to surprise the woman who claimed to love? right?" he added.
"This time my way of downloading and venting so many things that I feel, I will do it in these lines. It is not easy to think about what is coming for me and my children, but I feel capable of taking these innocent children forward, showing them that courage is not only for superheroes and that time will be my partner in this process," said Rosa Fuentes.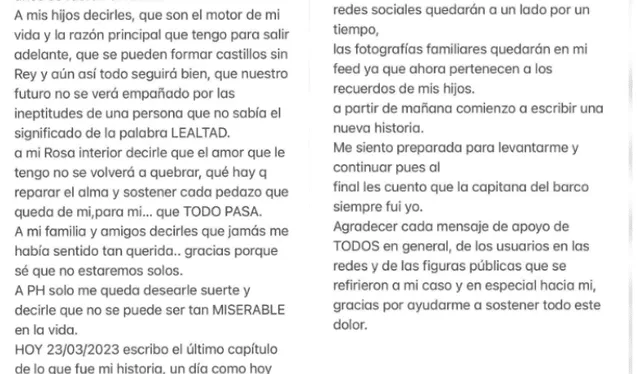 Rosa Fuentes reflects after the end of her marriage to Paolo Hurtado. Photo: Instagram
Rosa Fuentes puts an end to her 14-year relationship with Paolo Hurtado
Rosa Fuentes revealed that she will now remember these dates, which were special to her, with sadness and pain. "In two days my life changed, my plans and my life project of almost 14 years went to waste. Tell my children that they are the engine of my life and the main reason to get ahead. Castles can be built without a king. Our future will not be marred by the ineptitudes of a person who did not know the meaning of the word loyalty."he went on.