Once again, dawn arrives in Moscow, and with it the drone attacks over the sky of the Russian capital. As has been the trend, drones caused damage to a building in a central business district. Is about the sixth consecutive night in which they occur air raids on Moscow.
As reported by "The Moscow Times", Russian anti-aircraft defense systems shot down a Ukrainian drone in the Mozhaisky district and another in the Khimki district, in the Moscow region, according to the Russian Defense Ministry.
The ministry said in a statement collected by the Moscow newspaper, that a third drone crashed into a building in the commercial district of the city of Moscow, located about five kilometers from the Kremlin, after being "suppressed" by anti-aircraft defenses.
The RIA Novosti news agency reported that an "explosion" was heard in the business district, adding that "a little later, smoke was coming from buildings in the same area."
As has been the general trend after the drone attacks, air traffic was temporarily suspended in the Moscow's Vnukovo, Sheremetyevo and Domodedovo airports were briefly disrupted.
Neither the Ministry of Defense nor the mayor of Moscow assured that the attack had caused casualties. According to Sergei Sobyaninthe Moscow councilor, the emergency services had moved to the area, since "several windows were smashed in two adjacent five-story buildings."
According to the British newspaper "The Telegraph", the affected building is a skyscraper called "Moscow Towers". Apparently, Grigory Bayevskythe business partner of Arkady and Boris Rotenbergbillionaires and childhood friends of the Russian president, Vladimir Putinbought the building in 2017.
"The Telegraph" asserts that in 2016 it was revealed that Bayevsky had sold or transferred luxury properties to women linked to the Russian president, including his alleged daughter Katerina Tikhnovathe gymnast Alina Kabaeva and her grandmother.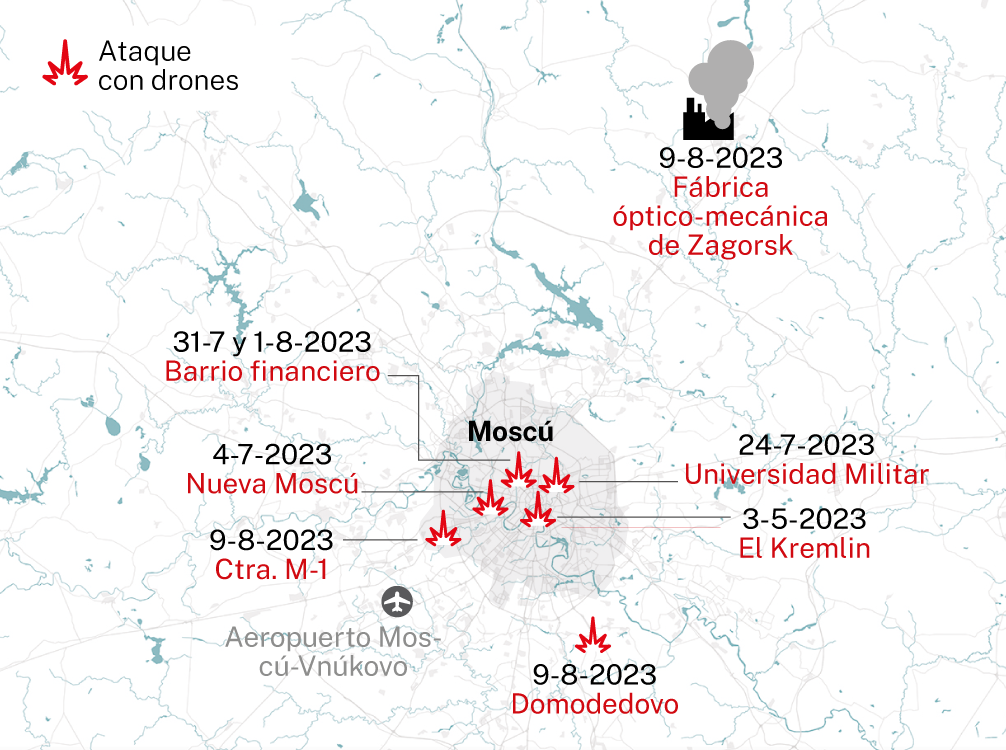 Ukraine did not acknowledge responsibility for this latest attack, but Russia accuses the Ukrainians of being behind it. At the end of July, after a wave of attacks against Moscow, the Ukrainian president, Volodymyr Zelenskyassured that "the war is gradually returning to the territory of Russia, to its symbolic centers and military bases, and this is an inevitable, natural and absolutely fair process."
"The Moscow Times" recalls that in recent weeks, two more drone attacks were repelled over the business district of the city of Moscow, each of which caused minor damage to the facades of high-rise buildings.